written by
admin
<br><br>
Sega is coming out with an Aliens vs. Predator game and they sent us over a neat little trailer for it. Would you rather be hunted by Aliens or Predators? Personally, I would prefer Predator because you can just choose not to participate with that guy and Predator will respect your choice of non-violence. Alien has all those pregnancy hormones in the system and there is just no rational getting out of a fight.
written by
Amelia G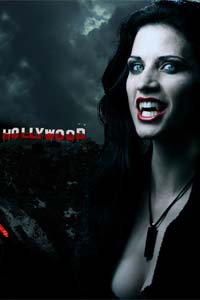 It is no secret that I love the vampire genre. I received Honors at Wesleyan University for my thesis on vampire legends as a paradigm for aggressive human sexuality. And I would like the record to show that I will be speaking on exactly that topic this weekend at Vampire Con in Hollywood. I'll be taking part in the panel programming Sunday afternoon, after the movie nights, and before Vampirella's Ball (more on this in a moment.) I'm excited that Wendi Mirabella and Lotti Pharriss Knowles have put Vampire-Con together.
The panel I am on is called Hot-Blooded: Vampires & Sexuality and is at 1pm at the Henry Fonda Theater on Hollywood Blvd. It will be moderated by David J. Skal, Author of Hollywood Gothic and V Is For Vampire: The A-Z Guide Of Everything Undead. I'm especially excited that Pam Keesey, who I'm looking forward to catching up with will be on the panel. She is the editor of multiple anthologies of lesbian vampire tales, Women Who Run with the Werewolves: Tales of Blood, Lust, and Metamorphosis, and Vamps: An Illustrated History of the Femme Fatale. Pam Keesey has a very engaging personality, has published yours truly, and once gave me a tour of Forrest Ackerman's memorabilia collection. Other panelists are Hal Bodner, author of Bite Club: A West Hollywood Vampire Tale, filmmaker Fred . . .
( Read more )
written by
Amelia G
The Sisters of Mercy will be playing The Music Box at the Henry Fonda Theater in Los Angeles on Tuesday, December 2nd, 2008. Read on to find out how you can win tickets courtesy of GoldenVoice and Blue Blood by posting on Gothic.net.
In the same way perhaps that Guns n' Roses is essentially Axl Rose at this point, Sisters of Mercy is essentially Andrew Eldritch. Having different collaborators on different Sisters albums gave different ones slightly different feels, but I personally enjoy the music on all of them. I even liked Vision Thing when all my unsavory pals derisively referred to it as the "Sisters Metal Album". (I maintained that the Egyptian iconography on the cover made it totally gothic, but whatever.)
My friend Jeanne has been emailing me nostalgic photos recently and this made me think of of an amusing related anecdote. Uncomfortable with the goth label, Sisters of Mercy has tended to tour with potentially incongruous acts. So Jeanne and I were at some stadium show. I don't recall all the acts on the bill, but the arena was probably the New Haven Coliseum or the Hardford Civic Center. This was pre-internet, so she and I were really enjoying the people watching and deconstructing the different tribes which had come out for the various bands playing. And looking for cute boys. So Jeanne spots this totally hot guy with dark hair and pale skin, a type we both favored, and she grabs me to point him out (I'm the forward one), only the guy disappears into some door and we can't figure out quite where.
Eventually Jeanne figured out that she had been scoping out Sisters frontman Andrew Eldritch. Apparently he had managed to walk around the arena hallways . . .
( Read more )
written by
Gothic.net
You can watch this trailer for One Missed Call here and check out the One Missed Call movie site.
written by
Amelia G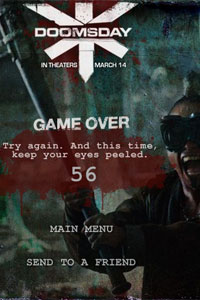 As part of the run-up to Doomsday, which opens in theatres on March 14, the Doomsday team has created an online video game called the Marauder Massacre Game. The Doomsday game is a first person shooter reminiscent of Quake with the lights off. I've never been particularly good at Quake, so you can probably easily kick the ass of my high score of 56. Play and let me know how you do!
Incidentally, I've been getting a lot of messages on MySpace pointing out that Doomsday has some similarities to the movie Escape from New York. Writer/director Neil Marshall said, in an interview with the New York Daily News, "Our heroine, Eden Sinclair, was sort of inspired by Kurt Russell's Snake Plissken in 'Escape from New York.' And, by the way, we do have a cage match, a gladiator fight, with Rhona Mitra using lots of weapons." Ya gotta respect anyone who can make something cool and acknowledge their inspirations at the same time.
Don't forget to check out the Blue Blood Doomsday article and Doomsday movie gallery. Now get shooting.
written by
Gothic.net
You can watch this trailer for Doomsday here and check out the Doomsday movie site.
written by
Gothic.net
You can watch this trailer for Cloverfield here and check out the Cloverfield movie site.
written by
Cheeky Monkey Boy
What comes to mind when someone says "Vampire"?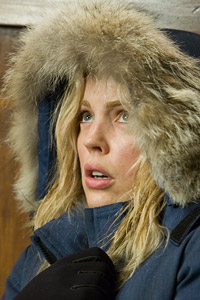 Throughout the world there have been all sorts of undead that feed off the blood of the living. Most vampires are not some romantic version of the undead a la Brad Pitt, Frank Langella, Bela Lugosi or even Kate Beckinsale. Vampires have become docile and over-eroticized in the past twenty years with books from Anne Rice and Laurell K. Hamilton. Don't get me wrong I love the humanization of the vampire and the sexual vampire has something because I think every single person deep down inside of them wishes they could give themselves to a lover forever. (Who could ever forget the 80's The Hunger.) But in the last twenty years vampire movies, books and storylines have not grabbed me by the throat. (I know bad joke.) Classics like 1922's Nosferatu where something that was not human was on the screen. Truly undead. Is there any hope for Hollywood's version of the bloodsucking undead? I think there is and that hope comes in the form of a story that started as a comic book that came out in 2002 from IDW and the minds of Steve Niles and Ben Templesmith called 30 Days of Night.
Wish to know what it is to see vampires at their rawest form of true predator of the food chain? Then I suggest you pick up a copy of Steve Niles and Ben Templesmith's 30 Days of Night. This award-nominated comic book/graphic novel not only captured the intensity of the undead as something not to be admired, but feared for what they are – killers of humans. Steve Niles is also one of the unique people in the comic/entertainment industry; he not only reinvented the horror genre of the old EC days before the comic codes ruined comics till the 1980's, but, literally bringing horror comics back from the dead. (Darn my bad jokes), Niles opened the minds of the public to the idea that vampires are not cute and lovable a la Anne Rice and Bram Stoker's. He proved that they are what they are Top Predatory beings. (Truly belonging to the night.) Like Neil Gaiman, Frank Miller and Alan Moore, he loves what he does and holds his storyline up for the world to see.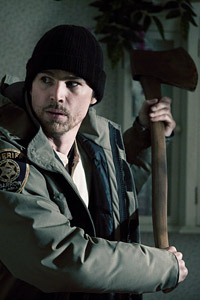 30 Days of Night is a story of what happens when a gang of vampires decide to go for a road trip to the one place they can truly enjoy. A small Alaskan village called Barrow, where it is truly night for long periods. And what do vampires do on a vacation? They eat like people when they go on a vacation or a cruise and with no fear of a diet. The anti-hero in this story is Sheriff Eben Olemaun and his Deputy/wife Stella. They are the last line of defense for the survivors of Barrow. The people are also just trying to survive on wits and survival instincts. The writing and the artwork in this comic/graphic novel is to be admired. Sort of water color pencil scratches that make you take note of how harsh the story really is. These vampires are filled with razor sharp teeth that not only pierce the skin but rip flesh from any portion of your body. As a reader you get the feeling of a watching an animal eating. No fine finesse of a dribble of blood from a fang. But an all out blood fest. Won't tell you too much more except there is a subplot that links these new vampires to New Orleans. (A city infested by vampires?)
But since the inception of this book into our culture, it has even crossed the lines of entertainment. I am happy to say that 30 Days of Night is about to hit the big screen. With this movie being Directed by David Slade (Hard Candy) and produced by Sam Raimi (Evil Dead series and that Spiderman series), it should at least be a thrill ride. The movie Stars Josh Harnett as Sheriff Oleson (Notice the change of name here since I do not think Josh can pass for a native Inuit from Alaska.) I have to admit that, although I am also critical of his acting skills in his earlier films, there are a couple of movies that I truly liked Josh Hartnett in. In Sin City as The Hitman and in Lucky Number Slevin, he is coming into his own.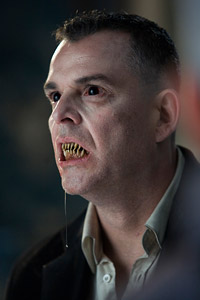 These are two items which will keep me happy until I see the movie. The interactive website and a little item called Fearnet on demand. The 30 Days of Night website will not only get you into the mood for this upcoming movie with downloads and an interactive game and bios of the director, actors and producers, but, as with all good movie webpages, it has great promotions and giveaways.
The interactive game on the website is something to play if you have the proper flash loaded on your computer. This game is about you being the sheriff and armed with only a shotgun you must kill as many of the new version vampires with the razor teeth as possible before they tear you apart. I have to admit over all I did okay with the game until they started assaulting me with seven vampires at a time. Remember if you play the game to always reload as soon as you can. Or you can become a bloody wet spot on the screen like I did.
Fearnet.com and Fearnet on Demand on your cable have something that will help you get prepared for 30 Days of Night. They have a short movie series called Blood Trails based on the New Orleans vampire hunter from 30 Days of Night I highly recommend this little series to get you ready for the movie. Not only did they perk my interest to the story line of the movie to come. But it answered some questions I had about the graphic novel.
I also am unhappy to admit it, but I will not be able to see the movie until Oct 19th like the rest of you. But I will be sending my review of it in as soon as I do.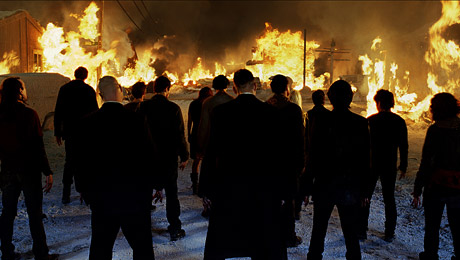 30 Days of Night Desktops
Check out the preview
written by
Gothic.net
You can watch this trailer for the Wrong Turn 2 DVD here and check out the Wrong Turn 2 DVD site for more. HorrorJunk.net interviewed director Joe Lynch in the video below. Check out the HorrorJunk site for more.
Horrorjunk interview with Joe Lynch


Wrong Turn 2 TRAILER #2


Found Footage

written by
Gothic.net
You can watch this extended trailer for Flight of the Living Dead here and check out the Flight of the Living Dead Outbreak on a Plane movie site.