AMC Releases New Interactive Sites for The Killing
AMC has released a pair of entertaining interactive web toys in support of their current mystery thriller "The Killing" where fans can investigate and get together and share their suspicions and theories about who killed Rosie Larson and why. These innovative tool add to the exciting series and allow viewers to get heavily involved in the plot. There are even sneak peeks at future episodes filed as Evidence Clips to help viewers with their own investigation. The Suspect Tracker offers extensive bios on all the potential killers along with user generated voting and tracking from episode to episode. Rosies Room allows visitors to explore and investigate all the hidden details of young Rosie Larson's bedroom in order to find helpful information and potential clues.
For a limited time AMCTV.com also has the two hour premier of "The Killing" on line for full viewing on the web, along with episodes three and four, so you can catch up on the whole gripping series.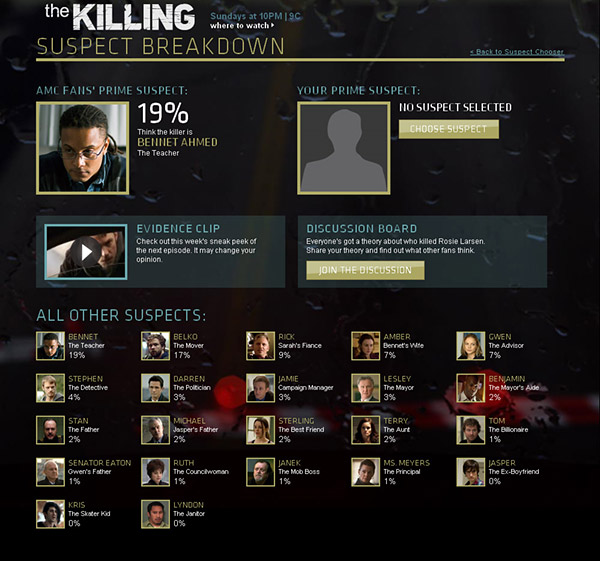 AMC invites fans to join the investigation into who killed Rosie Larsen with "The Killing" Suspect Tracker, a new interactive application now available on AMCTV.com and "The Killing" Facebook page. Following each new episode of AMC's new hit series, airing Sundays at 10pm ET/PT, viewers can delve deeper into the mystery of Rosie's death by placing their vote online every week on a prime suspect in the murder investigation.

With the Suspect Tracker, fans can also post their own theories about the case and read speculation shared by others. Weekly results will be posted every Tuesday so that followers can see which suspects are drawing heat from the Internet community and which are not. In addition, fans taking part in the investigation will be given the opportunity to win an iPad every week until the series' season finale.

"The Killing" Suspect Tracker is available through http://amcsuspecttracker.com

Also on AMCTV.com, viewers can visit Rosie's Room, a virtual simulation of Rosie Larsen's bedroom. The exclusive interactive experience allows users to explore what's under her bed, flip through her vinyl record collection, or troll through her laptop computer, which includes her social networking profile, vlogs, photos and emails, to learn more about her life. There are secrets and clues to be uncovered that could help lead to the discovery of who is responsible for her untimely death.

Rosie's Room is available through http://www.amctv.com/originals/the-killing/rosies-room/.

"The Killing" premiered Sunday, April 3, marking the second highest original series premiere for AMC, with 2.7 million viewers tuning in for the two-hour debut, second only to "The Walking Dead."

From writer, executive producer and showrunner Veena Sud ("Cold Case"), "The Killing" weaves together three distinct stories around a single murder, including the detectives assigned to the case and their suspects, the victim's grieving family, and the local politicians connected to the case. Shot on location in Vancouver, "The Killing" stars Mireille Enos ("Big Love") as Sarah Linden, the lead homicide detective investigating the death of Rosie Larsen; Billy Campbell ("Once and Again") as Darren Richmond, Seattle's City Council President running for Mayor; Joel Kinnaman (Snabba Cash) as Stephen Holder, an ex-narc cop who joins the homicide division in the investigation to find Rosie's killer; Michelle Forbes ("True Blood") as Rosie's mother, Mitch; and Brent Sexton (W., In the Valley of Elah) as Rosie's father, Stan.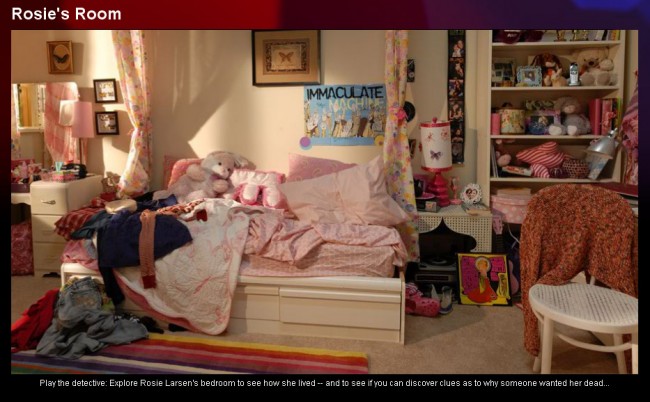 Related Posts:

Posted by
Gothic.net
on Wednesday, April 27th, 2011. Filed under
Dark TV
,
Headline
. You can follow any responses to this entry through the
RSS 2.0
. You can skip to the end and leave a response. Pinging is currently not allowed.
Tags:
amc
,
interactive
,
Rosie Larson
,
the killing