American Horror Story: Asylum Episode One
We start this season of American Horror Story off with, dare I say, more shocks and intensity than characterized season one. Fans were not disappointed.
A newlywed couple, is exploring the Briarcliff asylum, a tuberculosis hospital turned Catholic ran sanitarium for the criminally insane, in its present day decaying condition. The couple, Leo and Teresa, played by Adam Levine and Jenna Dewan respectively, get their kicks by having sex in haunted locations. This time they are interrupted by a noise and stop to investigate. In a series of flashbacks throughout the episode, we see that Leo puts his arm into a dark hole in a door in order to try and take a picture to see what made the sound when his arm is ripped off. His wife must leave him in the building in order to go to the car and get his phone to call for help. Only now the doors are locked and there seems to be no way out.
The year changes to 1964 and season one's very own Evan Peters comes into view. Kit Walker is a young man that is newly married himself, but the twist here is that his wife, Alma, is an African American woman. Given the year, they keep their marriage a secret. After a steamy sex scene, a bright light appears outside and he hears his wife calling for help. A series of unexplained events follow including quick glimpses of what appears to be an alien abduction.
The prolific actress Jessica Lange returns this season as the hardened Sister Jude. She is widely feared among the asylum's inhabitants, and for good reason. Her preferred form of punishment for their "sins" is a good caning. She even has her own collection of canes in graduated sizes. Her associate, Sister Mary Eunice, Lily Rabe, also from season one, is her polar opposite. A soft spoken, timid creature, Sister Mary Eunice is more than meets the eye.
Add in Dr. Arthur Arden, a psychotic doctor Frankenstein with a penchant for applying pain, and his plans that haven't yet been revealed, along with the head of the asylum, Monsignor Timothy Howard, and the plot reaches a depth that cannot be seen. Dr. Arden (James Cromwell) likes to experiment on the patients that have no families, so their disappearance isn't questioned. There is a hint that some of his creations may live in the woods surrounding the asylum when Sister Mary Eunice is told to take buckets filled with mysterious contents outside at night.
Other inhabitants of the asylum are Shelley and Grace. Shelley, a nymphomaniac played by Chloe Sevigny, has an insatiable need for sex, and Grace, played by Lizzie Brochere, is a woman accused of murdering her family.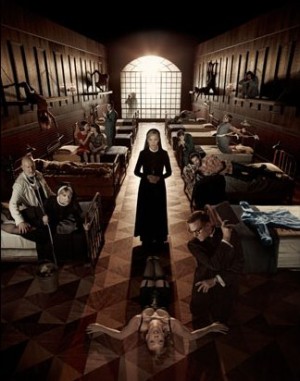 Bloody Face, a local serial killer who turns out to be Kit Walker, is being admitted to Briarcliff while he awaits trial for decapitating and mutilating women. Kit faces hard times in the asylum as no one believes his alien abduction story and they show him no mercy. Grace decides to secretly help him out. A reporter, Lana Winters (Sarah Paulson), wants to get the story on Bloody Face and she shows up at night to find Sister Mary Eunice running back to the asylum after her visit to the woods. Once inside the asylum, Lana is attacked and wakes up bound to a bed with Sister Jude telling her that she will be cured of her sin of homosexuality. Her lover, Wendy (Clea Duvall) has been forced to sign her in to the asylum by Sister Jude's threats to expose their relationship to the community, which will put Wendy's job as a school teacher in jeopardy.
Back in the present day, Teresa is trying to find a way out of the asylum when she runs into a frightening figure that appears to be wearing a mask of human flesh, just like Bloody Face was rumored to do.
Aliens, insane asylums, vicious nuns and monsters in the woods all make up American Horror Story: Asylum, and this is just the first episode. With this show, there are no limits to the twisted storytelling that we will see this season, and that's why we keep tuning in.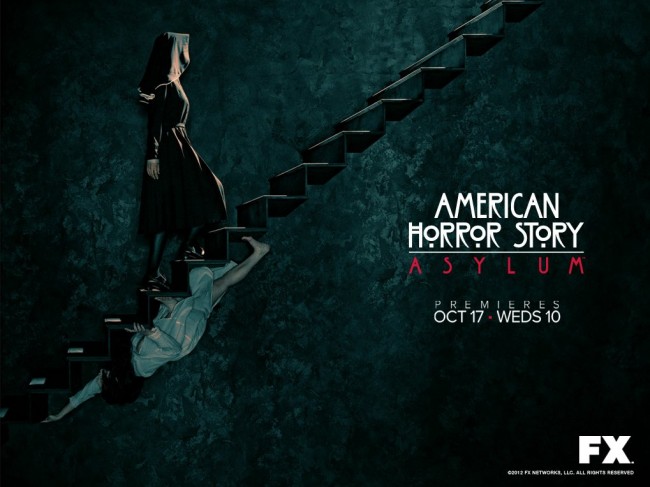 Related Posts:
Posted by
Amber Keller
on Thursday, October 18th, 2012. Filed under
Dark TV
,
Headline
,
Horror
. You can follow any responses to this entry through the
RSS 2.0
. You can skip to the end and leave a response. Pinging is currently not allowed.
Tags:
ahs
,
american horror story