American Horror Story at PaleyFest
American Horror Story show creator Ryan Murphy, when asked at the recent PaleyFest panel why they wanted to kill off all of the show's protagonists, answered saying that was always the plan. With the unique storyline and the haunted house element in this show they were able to have the characters die, yet the audience would still be able to see them and watch them interact. The beloved characters would always be with the viewers. Murphy also mentioned that he looked at it as a happy ending. In their deaths, he said, the characters would be able to work through their pain. Creator Brad Falchuk explained how they were able to examine back stories by taking each story line out of sequence, which, in my opinion, allowed for a richer story and the ability to add more characters as the show continued.
In this panel discussion, the friendships and camaraderie are apparent through the actors' interactions with each other. They speak of their on set chemistry allowing for the viewing experience and success of the show.
Even though the original cast will not return, at least not in the same characters they played last season, fans alike all eagerly await the premiere of the next season of "American Horror Story".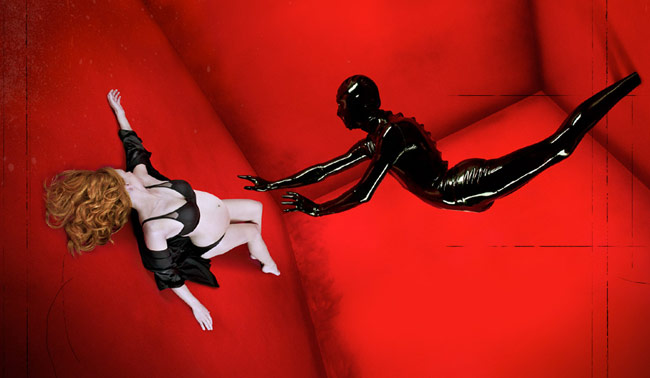 Friday, March 2, 2012
7:00 pm PT
Saban Theatre in Beverly Hills

In Person
Ryan Murphy, Creator/Executive Producer
Brad Falchuk, Creator/Executive Producer
Dante Di Loreto, Executive Producer
Connie Britton, "Vivien Harmon"
Dylan McDermott, "Ben Harmon"
Jessica Lange, "Constance Langdon"

Alexandra Breckenridge, "Young Moira"
Sarah Paulson, "Billie Dean Howard"
Frances Conroy, "Moira"
Moderator: Tim Stack, Entertainment Weekly

The Harmons see dead people. The exceedingly troubled family at the epicenter of this outlandish spine-chiller from FX—"arguably the season's sexiest, scariest, strangest show," per TV Guide—has moved from Boston to L.A., hoping to begin anew after a miscarriage and an affair, but their adopted home is a house of horrors flush with dead, tortured souls, all of the malevolent variety. The show, from Glee's Ryan Murphy and Brad Falchuk, was highly anticipated and hasn't disappointed; three-plus weeks after its October premiere, trick-or-treaters were masquerading as one of its characters, the Rubber Man. Much credit goes to the cast, including Dylan McDermott and Connie Britton (the Harmons); Taissa Farmiga (daughter Violet); and Jessica Lange (their sinister and completely batty neighbor).
Related Posts:
Posted by
Amber Keller
on Tuesday, March 20th, 2012. Filed under
Dark TV
,
Events
,
Headline
,
Horror
,
Professional
,
Video
. You can follow any responses to this entry through the
RSS 2.0
. You can skip to the end and leave a response. Pinging is currently not allowed.
Tags:
ahs
,
alexandra breckenridge
,
american horror story
,
brad falchuk
,
entertainment weekly
,
frances conroy
,
paleyfest
,
ryan murphy
,
sarah paulson
,
tim stack