American Horror Story Season One Recap
American Horror Story premiered October 5, 2011 on FX. The show, created by Brad Falchuk and Ryan Murphy, was well received and gained an incredible fan base quickly. It went on to win multiple awards and garnered 3.2 million viewers for the pilot episode alone.
In season one we were given the story of the Harmon family. Ben (Dylan McDermott), Vivien (Connie Britton) and their teenage daughter Violet (Taissa Farmiga) moved from Boston to Los Angeles following Ben's affair and Vivien's stillbirth. The mansion they moved into has a sinister past filled with tragedy. Its haunting appearance and dark interior adds to the ambiance as the Harmon's become ensnared in its grasp.
The spectacular cast of characters includes the nosy neighbor Constance (Jessica Lange) and her daughter Addie, Moira, a housekeeper who appears as a sexy young woman to men (Alexandra Breckenridge) and an older lady with a blind eye to women (Frances Conroy), and Tate (Evan Peters). Strange occurrences frequent the house and it is revealed that the Harmons are not the only inhabitants. Filled with the ghosts of the victims that lost their lives within its walls, the house has become their eternal prison. The evil that occurred inside the home permeates through to the living who inevitably become victims of the spirits, many which are bitter, resentful and have no remorse for doling out harm to the living.
Ben, a behavioral therapist that works from his home, begins treating a new patient, Tate. Violet, who suffers from depression and self-mutilates in order to cope, soon develops a relationship with the brooding and mysterious Tate who is really the deceased son of Constance. A strange and menacing figure in a latex suit, Rubber Man, appears and Vivien, believing it to be Ben, has sex with him. Vivien and Ben do in fact have sex later that night and Vivien ends up pregnant, carrying twins, one fathered by each. When Ben finds out there are two fathers, he believes Vivien has had an affair. The Rubber Man is later revealed to be Tate, and his child with Vivien is expected to be the Antichrist. Tate is also shown in a flashback to have previously attacked his schoolmates, shooting them inside the school's library. It is revealed that Tate and Constance once lived in the home and Tate is shot and killed in his bedroom by a SWAT team that comes to arrest him for the school crime.
Ben's mistress, Hayden (Kate Mara), follows him to LA and is also carrying his baby. Larry (Denis O'Hare), a burned and disfigured man that was once connected to Constance, shows up and kills Hayden in the yard, condemning her ghost to be locked in the Harmon's home forever, and also attempts to blackmail Ben.
Violet later attempts suicide, but Tate arrives to save her. Weeks later she is shown her dead body inside the walls of the house, another victim of the Harmon's home. Vivien's sanity is questioned when the ghosts start to harass her in hopes that they can render her insane and raise her babies for their own. Their plan works and Ben has her committed. Ben finds the Rubber Man suit and believes she was raped. After her release, she goes into labor and gives birth in the home with the assistance of the ghosts. One of the twins and Vivien die, leaving Ben and Tate's baby the only living people remaining in the home. Ben is attacked and killed by Hayden and some of the other ghosts before he can leave, and Constance takes her grandchild to raise. The series ends with the child having murdered his nanny as Constance had been away at a salon.
There are many ghosts residing in the house, including a deranged abortion doctor and his wife. The doctor and his wife had a child that was killed by a patient's vengeful boyfriend. The baby, who the doctor sewed back together pieced with animal parts, becomes the gruesome ghost in the basement, named "The Infantada". There are even ties with the house and the Black Dahlia murder as it shows her being killed and dismembered inside the home. Some of the ghosts are malicious, while others seem to be more benign in nature. Despite their intentions, their presence is effectively unsettling.
The show broke through the barriers of horror television with its shocking storyline and eerie, visceral appearance. Each episode successfully kept viewers on the edge of their seats, waiting to see what would happen next. Shortly after the premiere, FX announced plans to renew the show for another season. However, Murphy explained that both the characters and location would change for each subsequent season.
On October 17, 2012, season two premieres on FX titled, American Horror Story: Asylum. Teasers and advertisements promise to bring plenty of shocks and scares, along with some familiar faces, within the new setting of an institution for the criminally insane.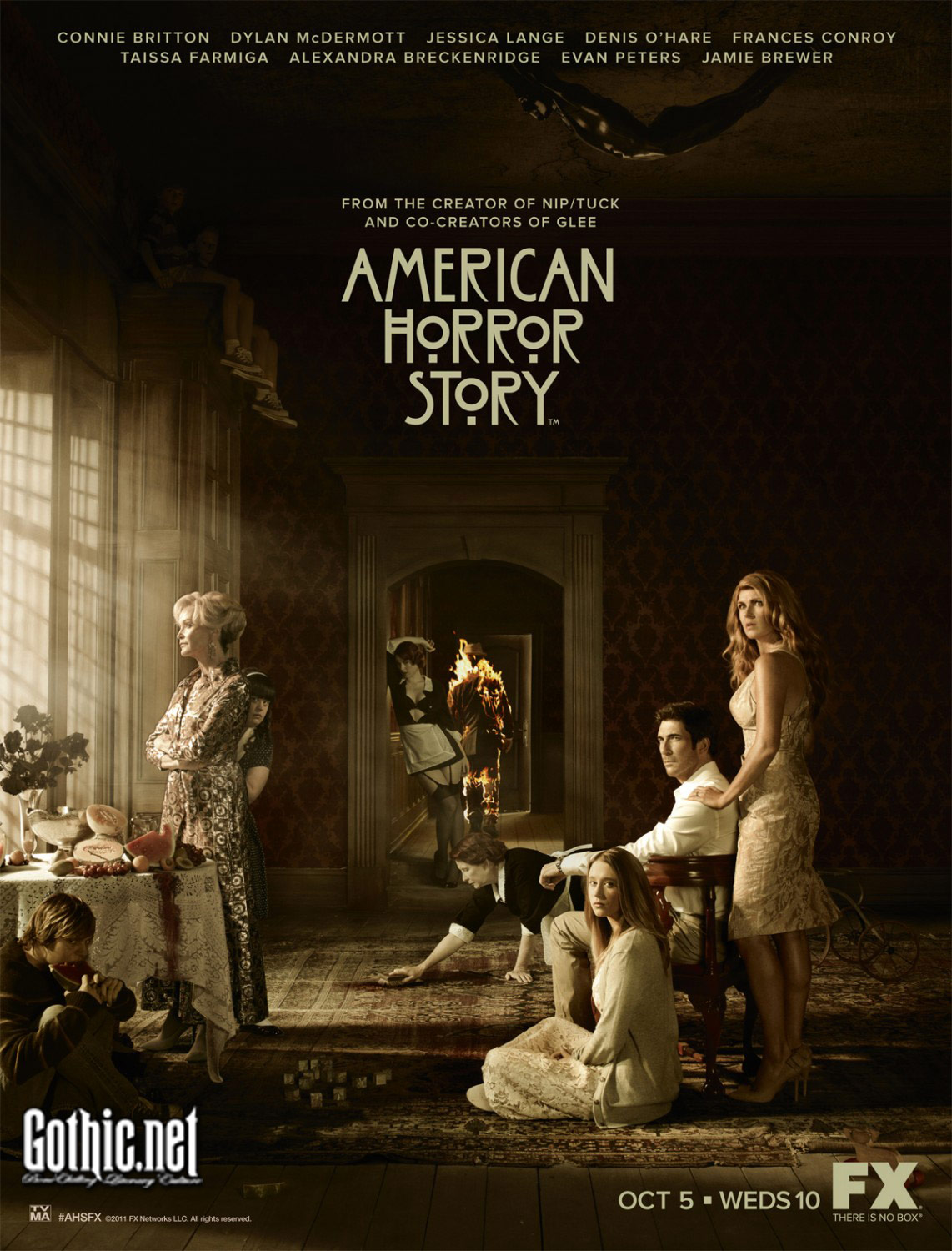 Related Posts:
Posted by
Amber Keller
on Monday, October 15th, 2012. Filed under
Dark TV
,
Headline
. You can follow any responses to this entry through the
RSS 2.0
. You can skip to the end and leave a response. Pinging is currently not allowed.
Tags:
ahs
,
american horror story
,
fx
,
season 1