Angry Birds Day
Tomorrow, December 11, 2011 is Angry Birds Day. It is the game's second anniversary.
Are you a fan of Angry Birds, the popular game found on cell phones and iPads everywhere? There are a lot of supporters, worldwide, who enjoy to sling birds at unsuspecting pigs. These people have decided to unite and have their very own day, an Angry Birds Day. All across the world, groups of people use Meetup.com to organize a time and place where they will get together and do various Angry Birds inspired activities. There are also events found at bookstores, such as Barnes and Noble. Most of the events have everyone playing the game, naturally, but also incorporate activities such as raffles and prizes. One event, held in New York City, had fans joining together, near Central Park, and playing the theme song on kazoos, and dancing around like birds as a flash mob, all while wearing a costume of or the color of their favorite character. Lively and spirited, these gatherings are growing in popularity. If you are interested in organizing one of your own, try the site at Meetup.com to get you started and have your very own Angry Birds Day.
Impact Lab covers the December 11, 2010 Angry Birds Day event with pics of people in costumes and a feature article.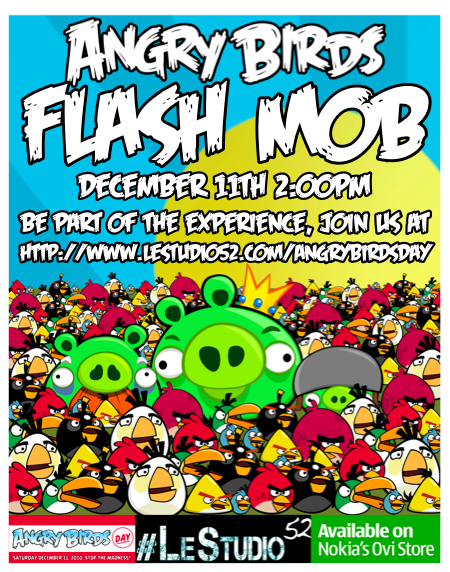 Flyer for Angry Birds Day 2011 London.
Related Posts:
Posted by
Amber Keller
on Saturday, December 10th, 2011. Filed under
Events
,
Games
,
Headline
,
Lifestyle
. You can follow any responses to this entry through the
RSS 2.0
. You can skip to the end and leave a response. Pinging is currently not allowed.
Tags:
angry birds
,
angry birds day
,
costume
,
flash mob
,
impact lab
,
ipad
,
meetup