Get Splattered! Dexter Blood Splatter Gauge Earrings
If you've endured the rigors of ear gauging to stretch your lobes, the reward is to hunt for unique jewelry to individualize your look. Artist Purplecowpolymer on Etsy features some of the most unique gauged earring pieces I've seen: Dexter Blood Splatter Spiral Polymer Clay Gauged Earrings in different sizes from: 2g, 0g, 00g, 7/16″ to 1/2″.
Inspired by the tv show Dexter, this artist will craft these distinctive polymer clay gauged earrings just for you and won't gouge you on the price. And even if you haven't stretched out your pierced ears, this Etsy artist can make "fakers" for ears that have not been gauged. Dexter blood spatter jewelry and clothing is trendy right now with Dexter fans. You can find pieces on Etsy or even DIY if you're looking to express an edgy scene of the crime killer look. These earrings hark back to the look of tribal gauged ear jewelry done in bone or ivory. The only thing missing from this Etsy seller's store is a photo of someone wearing the handmade earrings! (hint hint Purplecowpolymer…)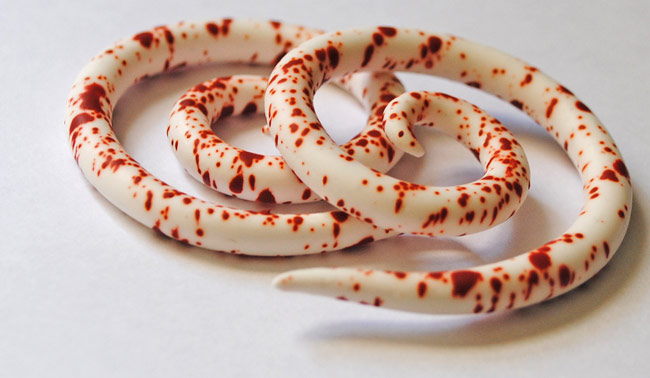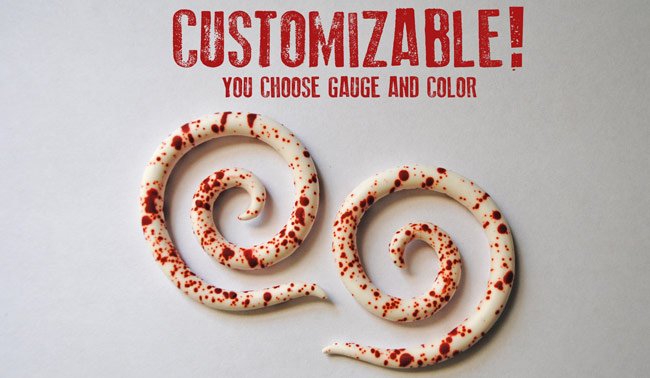 Related Posts:
Posted by
Sara St. Vincent
on Thursday, January 24th, 2013. Filed under
Headline
,
Lifestyle
. You can follow any responses to this entry through the
RSS 2.0
. You can skip to the end and leave a response. Pinging is currently not allowed.
Tags:
dexter
,
earrings
,
purple cow polymer
,
purplecowpolymer
,
splatter