Doomsday First Person Shooter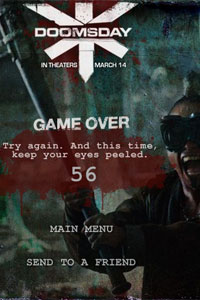 As part of the run-up to Doomsday, which opens in theatres on March 14, the Doomsday team has created an online video game called the Marauder Massacre Game. The Doomsday game is a first person shooter reminiscent of Quake with the lights off. I've never been particularly good at Quake, so you can probably easily kick the ass of my high score of 56. Play and let me know how you do!
Incidentally, I've been getting a lot of messages on MySpace pointing out that Doomsday has some similarities to the movie Escape from New York. Writer/director Neil Marshall said, in an interview with the New York Daily News, "Our heroine, Eden Sinclair, was sort of inspired by Kurt Russell's Snake Plissken in 'Escape from New York.' And, by the way, we do have a cage match, a gladiator fight, with Rhona Mitra using lots of weapons." Ya gotta respect anyone who can make something cool and acknowledge their inspirations at the same time.
Don't forget to check out the Blue Blood Doomsday article and Doomsday movie gallery. Now get shooting.
Related Posts: