American Horror Story, Season 3, Episode 1
This was a highly anticipated season premiere, and the talk around the water cooler proved that the team behind American Horror Story had better bring their best. But did they? I say yes.
Centered around witches, season three, aptly titled American Horror Story: Coven, is set in New Orleans, a place so witchy and mysterious that it's been the inspiration for many a horror film and book. Take one look at the above ground crypts and oaks with their ghostly Spanish moss floating from their braches and you'll see why those with a dark side flock there. It's quite fitting that they have placed a boarding school for young witches in the heart of the city. Here, the girls will be taught how to protect themselves, especially since there are so few of them left. Of course there is one witch to rule them all, and in this case it is the Supreme, aka Fiona Goode, played by the indomitable Jessica Lange. She's looking as seductive and beautiful as ever, and this time she has some wicked abilities like kissing people, causing them to age, shrivel and die while she absorbs their vitality. Her daughter, Cordelia Foxx (Sarah Paulson), is head mistress at the boarding school, and we find out very quickly that their mommy and daughter relationship is strained. As far as the young witches, we have the lead, Taissa Farmiga, back from the first season as Zoe Benson, a young girl who kills the boys who bed her in a bloody way. Emma Roberts is Madison Montgomery, a movie starlet gone wrong who's pissed at pretty much everybody for her lot in life. Think Lindsay Lohan with telekinesis. Gabourey Sidibe is a human voodoo doll, and Jamie Brewer rounds out the group as a clairvoyant. It was so nice to see the familiar faces from seasons passed. That's part of the fun for me during season premieres. Another cast favorite of mine, Evan Peters, plays Kyle Spencer, a frat boy with a good heart. Zoe falls for Kyle, yes, Farmiga and Peters are paired yet again, but when Madison falls victim to a frat boy gang rape, Kyle's life is cut short when he tries to intervene and is caught in Madison's evil crosshairs. Other recurring cast members this season include Frances Conroy, Lily Rabe, and Denis O'Hare. Newcomers Kathy Bates, as the crazy evil Delphine LaLaurie and Angela Bassett as Marie Laveau will most certainly bring their star power to their fascinating and respective roles.
The previews for next week hint that Kyle will be brought back from the dead as what looks to be a modern day Prometheus. I am really looking forward to the prospect of at least one monster this season. Greek mythology was also referenced by way of a real life minotaur. Zoe's character in particular is intriguing. I think there's more to her than we've seen. Her "Black Widow" status may just be scratching the surface of what she can really do. Will she eventually overthrow the Supreme and take her own seat at the throne? Only time will tell. I'm delighted to watch how Marie Laveau will be written. With her infamous voodoo queen reputation, she will most likely be a highly recognized character.
Have you picked a favorite character so far? Let us know in the comments below.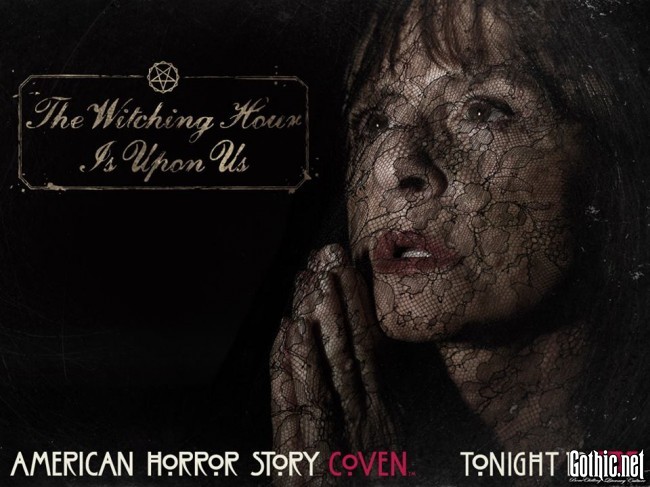 Related Posts:
Posted by
Amber Keller
on Sunday, October 13th, 2013. Filed under
Dark TV
,
Headline
. You can follow any responses to this entry through the
RSS 2.0
. You can skip to the end and leave a response. Pinging is currently not allowed.
Tags:
ahs
,
american horror story
,
coven
,
fx
,
season 3 premiere
,
witches