Exclusive Interview with Face Off Season Three Winner Nicole Chilelli
California-based make up artist and designer Nicole Chilelli is fresh off her victorious run on season three of SyFy's Face Off. Nicole is ready to hit the ground running, but she took time for this exclusive Gothic.net interview.
Ed Grabianowski for Gothic.net: What are your favorite movies from a creature design/make up perspective? What movies inspired you to get into make up?
Nicole Chilelli: I'd have to say Predator has to be my favorite creature design. It's just so iconic and really brings a feeling when you see it. Steve Wang is a hero to me with all of his work and paint and everyone at Stan Winston. To me it still holds high on the bar. It's just too amazing.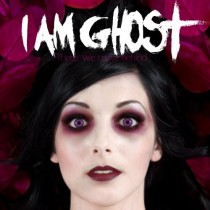 EG: There's a certain design aesthetic that combines the grotesque with beauty, which I think you really captured with your cyborg warrior and werewolf designs. How do you approach a make up when you want to combine seemingly contradictory elements like that? What is it about that contrast that creates such compelling designs?
NC: I guess it just comes out when I'm designing. I don't think too much about it, it just happens. I have always been a fan of scary things and I see beauty in all them. Someone will look at something and think its disgusting but I see something intriguing and beautiful. Maybe it's just because it's what I love that it just comes out in my work. It's two of the strongest feeling put into one and I love that.
EG: How did you end up on an album cover?
NC: I was friends with the band. The producer said he was looking for someone very pale with black hair and huge eyes, so they told me it was perfectly me — before I dyed my hair pink!
EG: What's your dream gig? What do you have your sights set on now?
NC: I want to keep pushing this roller coaster. I don't ever wanna stop. Makeup is my life. I want to continue working on films and shoots. I would love to go to school for it. I'm self taught so I'd love to go and learn more. Hopefully work at a shop or get my own. Just live and breathe makeup all day everyday!
EG: What are your immediate plans now that you've won Face Off?
NC: Already started getting my kit loaded up. I want to invest this into my career to push it further. Learn more and grow as an artist.
Related Posts:

Posted by
Ed Grabianowski
on Tuesday, November 6th, 2012. Filed under
Dark TV
,
Headline
. You can follow any responses to this entry through the
RSS 2.0
. You can skip to the end and leave a response. Pinging is currently not allowed.
Tags:
face off
,
face off season 3
,
nicole chilelli
,
syfy