Face Off – Cosmic Circus
Face Off breaks our hearts this week. With only eight artists left, someone with a ton of talent gets sent home, and there's a lot of crying.
Right to the challenge this week, no screwing around. Some people come out and do a crazy acrobatic routine. It's Cirque Berzerk! They want the artists to create something that returns to the circus' "sexy, dark, punk rock roots." I'm not really sure the circus has those roots, but ok. Oh, a twist. The designs are also aliens. And they have to perform a kinetic circus routine in full make-up. So dark, sexy, punk, alien acrobatic circus performers. Right.
This is a team challenge, and everyone picks their own teammates. Everyone's excited about designing aliens except Laney, who isn't into the alien thing. This isn't as much of an obstacle as Sarah from season three, who had never really watched a zombie movie. But while this week's episode was on, Miranda tweeted (good-naturedly) at Laney, "How can you not like Aliens?!" Seriously.
We haven't really had any quote of the week material this season, but Frank got a good one in, calling he and Tate, "Team BananaFingers," due to Tate's crushed finger. Frank can still be a little douchey at times, but his work is rock solid and incredibly efficient. That segment where Tate explained how they made the flat mold of their model's torso? That is awesome. That is what Face Off needs more of. It's one thing to see the contestants create incredible designs and go, "How did they do that?" It's quite another to see how an experienced artist goes about the craft.
Michael Westmore's walkthrough feature some very pointed criticism of Laura's face mold not being sexy enough. Sexy is such a hilarious word, and it started to feel really goofy hearing people saying it so much. Laura took the criticism to heart and de-lizardified her sculpt a bit to make it a bit more sexy. I'm still not sure the end result was anything I'd call sexy, but the lizard face, while excellent, was definitely nowhere near sexy. Sexy. Sexy. Sexy. Say it out loud a few times. So weird.
When Frank pointed out that Miranda's cowl was reminiscent of a design from Hellboy, I didn't want her to change it. Sometimes things look like other things, but paint could have given it a different identity. But she tweaked the design and came up with something really beautiful and unique.
None of the designs blew me away this week, but none of them were all that bad. Laura and Roy, which is a Face Off dream team if there ever was one, made a guy with a laser whip and a parasite bug on his chest. The judges were right that the bug was silly. I'd have preferred a clean torso design with some interesting lines. The judges were wrong about the colors, though. The blended blue and silver drew my eye to the face and stood out nicely against the black and gray armor.
Tate accurately described the character he and Frank made as "crust punk," almost certainly the first time I've heard someone use that term on television. She was a little colorful for crust punk, but I'll buy it, especially with their fun story about the alien finding a Walkman with a punk tape in it.
Eddie and Miranda were clearly going to win, both doing excellent work on a regal alien siren. As Glen observed, the blending of front and back on the cowl was impressive considering it was two different artists' work. The stars on her boobs seemed like an odd choice, and weren't really given enough definition or paint. I was less impressed by this paint job than the judges, but it still deserved to win. So Miranda gets another confidence boost. Eddie has fought through some weak challenges to stick around and get fairly deep into the competition. Maybe it's his,"aw shucks," young face that caused me to underestimate him at first. Well, he also mentioned early in the season that he's fresh out of make-up school.
Now we get to the Sad Ballad of Laney and Alana. They started off with disjointed ideas. Their best idea came from Mr. Westmore, who suggested they use the model's huge dreadlocks instead of fighting to cover them up. There was some weird drama as they worked, and some of it I suspect was due to creative editing by the producers. There was definitely some real tension though. It seemed like Alana was trying to express where she thought things needed improving, but couldn't get it across to Laney. I think Alana was trying to say things very gently instead of just being more up front, but in the end her vagueness confused and upset Laney.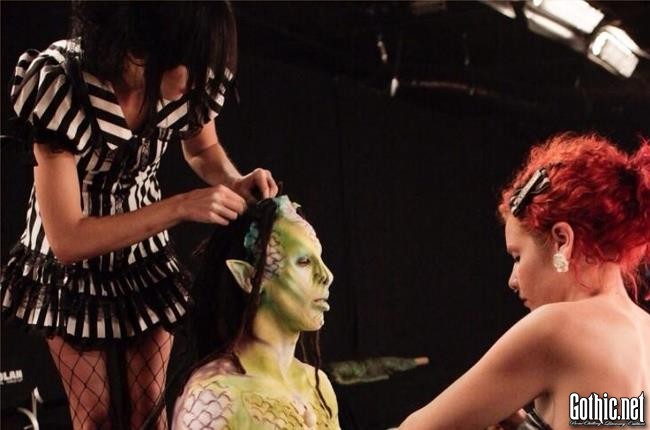 For her part, Laney didn't do her best work. The cowl was a plain helmet covered in scales, and those edges were pretty huge. But even though you could tell she was ticked, when Alana finally said, "Let's ditch the cowl," Laney just went with it and decided to make the result as good as possible. And she was totally right that Alana should have been clearer the day before. None of this was "reality show drama." It was just workplace drama, the kind that dissolves during happy hour at Harryhausen's, the pub where (in my rich fantasy life) all the SFX and make-up artists hang out each evening.
I thought their ringmaster (or "space womanizer" as Alana called him) looked pretty cool and alien in a fun way. The judges didn't think he was alien or sexy, but whatever. Was it the "worst" of the four designs? I guess. But In Through the Out Door is also the "worst" Led Zeppelin album.
I have no idea how the judges decided which of the two got sent home. Maybe Alana got the axe because she took the lead on making the major decisions. But most of Laney's work was left off the final design. I'm not saying Laney deserved to be cut either, it just seems super arbitrary. And Laney exploded into tears when Alana was named the loser, which actually went on long enough to start to feel uncomfortable. Even McKenzie was feeling it. Her usually curt, "Get your shit and get out," speech was very apologetic.
The silver lining of an awesome artist getting cut from Face Off is that you know they're part of the Face Off family (this is especially true of Alana), and have healthy careers ahead of them. Farewell Alana!
Related Posts:

Posted by
Ed Grabianowski
on Tuesday, October 1st, 2013. Filed under
Dark TV
,
Headline
. You can follow any responses to this entry through the
RSS 2.0
. You can skip to the end and leave a response. Pinging is currently not allowed.
Tags:
circus
,
cosmic
,
cosmic circus
,
face off
,
faceoff
,
fx makeup
,
syfy