Face Off Season 3 Premiere — "A Force to Be Reckoned With"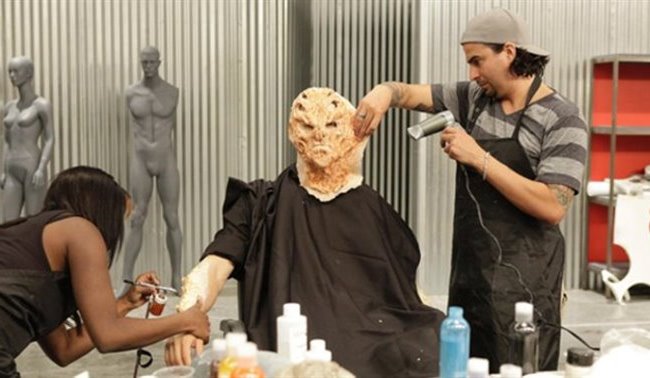 On the season 3 premiere of Face Off, we learned which contestant is the biggest d-bag real quick. The reason for Patrick Tatopoulos leaving the show was revealed, Sean Astin might have been there for a second, and of course we got to see some talented people do amazing things. Seems on par.
The season launched with brief intros for most of the artists, who were shuttled directly to a rooftop L.A. pool party populated by pretty people and Sean Astin, who yelled, "Mr. Frodo!" a few times and left. Not exactly optimal use of a guest star.
The artists' "foundation challenge," which is a sort of pre-challenge challenge and awards immunity from elimination, was to do a face make-up incorporating something, anything, from the party. All the models who seemed to be vapidly lounging in the pool the way all of us people who've never been to a rooftop L.A. pool party assume is just their natural environment were actually the models for the challenge. Useful models!
There were a lot of really mediocre make-ups, and twin brothers Eric and Derek did very similar flower-creatures. One of them won the challenge. This brings up one of my few criticisms of this show – there is a definite bias in favor of beauty, at the expense of the grotesque. I thought Joe's napkin-face and pretzel-teeth burn victim was gruesome and horrifying. His "No one understands me" whining seemed pretty douchey, though. That's what we call "foreshadowing."
The artists then moved into their home for the duration of the competition, a swanky L.A. house rented by the SyFy producers. You know what else happens a lot in swanky L.A. houses that are available for short-term rental? Porn shoots. Just sayin', maybe throw down a tarp before you sit on the couch. The viewers will probably not see too much of the house in any case – one of the things I love about Face Off is that the focus is really on the work back at the studio. The silly melodramatic b.s. is minimal – except when it occurs at the studio, of course.
This week's main challenge was a cool one – design an alien that would fit in the iconic Star Wars cantina scene. Everyone got divided into pairs, which ranged from hardcore Star Wars geeks Laura and Sarah to team Pink Hair (Nicole and Alana), both of whom claimed to have never really watched an entire Star Wars movie.
Tommy, who gave off a serious "sensitive artist" vibe, got paired with Joe, who quickly revealed that he really was a total d-bag. You can chalk up a lot of bad behavior on a reality show to selective editing, but to just straight up smash your partner's sculptured face like that, and constantly belittle him? There's no justification. I hate to spoil the ending, but Joe ended up walking off the set before the judges could properly can him, so the perception was borne out. In the sense that the entire show is an ongoing job interview for prospective clients, Joe bombed out spectacularly.
Meanwhile, Rod emerged as the episode's hero: not only created a very unique sculpt for Roy's creepy little alien guy in a mechanical suit concept, but he dropped everything to help Nicole and Alana get their molds made. That's the kind of guy you want on your film crew – a talented player that makes the people around him better.
Speaking of talent, Roy's mecha-suit blew my mind. There's a lot of focus on make up and facial appliances on Face Off, and I think fabrication is overlooked at times. Look at the effects on the original Star Wars movies, and you'll realize that the art of bodging together amazing pieces from whatever is handy is absolutely vital. I doff my cowboy hat to Roy for this one – great job.
Laura and Sarah put their Star Wars knowledge to work, creating a sleek alien woman from Dagobah with beautiful details on the face, seamless edges, and a unified design that tied all the elements together from head to toe. What's interesting is that Team Pink Hair's cosmic cocktail waitress was actually a pretty cool design (though it could have used a better paint job) despite their lack of Star Wars geek cred. Just shows that sometimes tabula rasa is the best place to start designing from.
The judges tore Tommy and Joe apart, and showed Tommy no sympathy for his mealy-mouthed pre-apology. This was Patrick Tatopoulos' last week with the show, as he had to leave for Belgium to work on 300: Battle of Artemisia. New judge Neville Page immediately showed off a discerning eye for design and a willingness to call out flaws when he sees them.
Rod and Roy won the week, and they certainly deserved it. I loved how ambitious the concept was. I wouldn't have argued if Laura and Sarah had won, though. Their execution was flawless, and that character could be dropped into the Star Wars universe as is. It was nice to see that the winning team got a nice prize (their character featured on the official Star Wars website), something I'd complained about in my season 3 preview.
Then the judges went and awarded Rod the "win" for the episode, topping Roy. There was no mention of any kind of prize for this, so it seemed utterly pointless. Weird. By the way, the grand prize for this season is still $100,000 and a Prius, but instead of a ton of make-up, the winner gets a gig as a guest lecturer at the Make Up Forever studio and training academy.
With Joe out of the show, there seems to be a feeling of camaraderie in the house. That's cool – I'd rather see people working together to create their best work than some immature tools having meltdowns. Will Tommy turn it around next week? Can Alana and Nicole overcome their inexperience and self-doubt? Will Rod and Roy just run the table this season? Will I ever learn which is Eric and which is Derek?
Related Posts:

Posted by
Ed Grabianowski
on Tuesday, August 21st, 2012. Filed under
Dark TV
,
Headline
. You can follow any responses to this entry through the
RSS 2.0
. You can skip to the end and leave a response. Pinging is currently not allowed.
Tags:
face off
,
fx
,
glenn hetrick
,
mackenzie westmore
,
neville page
,
patrick tatopoulos
,
syfy
,
ve neil