Fangoria Ice Cream
Have you ever thought about making ice cream with a burst of liquid nitrogen to cool it off? The folks at Nitro have made it happen! At their unique ice cream and frozen yogurt stores, customers are allowed to pick a base from many options, a color, flavor, and mix in. Once the ingredients are combined, the ice cream technicians, outfitted in nitrogen safety wear, apply the liquid nitrogen, causing a dramatic fog effect. The end result is a creamier ice cream than store bought due to the elimination of ice crystals from the application of nitrogen. Another perk is that their topping bar is all you can eat! The stores are only located in New York right now, but are planning on expanding nationwide. They have teamed up with Fangoria to bring an exclusive limited edition brand of ice cream, titled, "Fangorie Eye Scream". For $27.96, you can get four pints of ice cream, one pint each of the special flavors, The Zombie, Brain Carnage, Hard Ride to Hell, and The Jack-O-Lantern. Whether you are throwing a party, or have a craving, Nitro will give you a fresh, custom-made cup of ice cream, designed by you.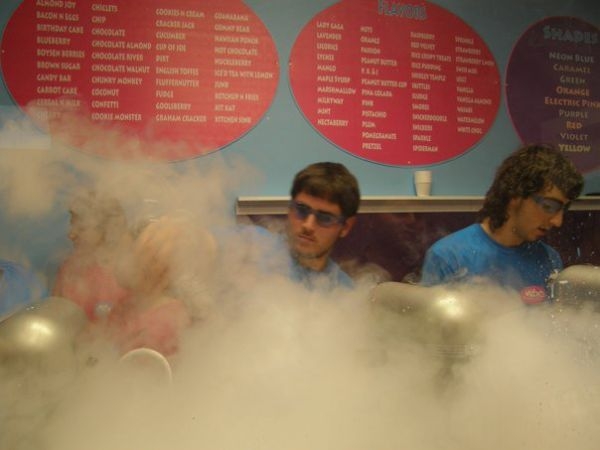 FANGORIA EYE SCREAM is a limited edition brand of delicious horror themed ice cream, produced exclusively for FANGORIA by Nitro.
Get four one (1) pint Halloween Special Ice Cream Flavors (4 pints total)for $27.96, plus Overnight shipping and handling $31.99 ($59.95 TOTAL)!

Package includes: one (1) pint each of Zombie, Brain Carnage, Hard Ride to Hell and The Jack-O-Lantern (these flavors are made in a facility that handles "nuts" and some flavors may contain nuts or nut traces):

THE ZOMBIE: Blue raspberry icecream Blood red strawberry jam swirl Gummy Fingers marshmallows
BRAIN CARNAGE: Vanilla ice cream Vanilla Chips Ahoy Nilla Wafers Black Raspberry Syrup (the white cookies with a cherry swirl looks like brains) Blue Grey Color
HARD RIDE TO HELL: Vanilla Ice Cream Red Hots Red Devil Coloring Candy Gooey Skulls Hot Chilli Flavoring
THE JACK-O-LANTERN: Pumpkin Flavored ice cream marshmallows Graham cracker chunks Candy corn pieces

Guaranteed Overnight Delivery–order it now and get it in your cold hands the next day! ORDER BY WEDNESDAY, OCTOBER 26TH TO RECEIVE BY HALLOWEEN!

Nitro is a premium ice cream shop that uses a unique patented liquid nitrogen process to produce fresh, custom blended ice cream flavors.

*DISCLAIMER: Nitro Ice Cream & Frozen Yogurt makes every attempt to identify ingredients that may cause allergic reactions for those with food allergies. Every effort is made to instruct our food production staff on the severity of food allergies. In addition, we label items with possible allergen-containing ingredients; however, there is always a risk of contamination. There is also a possibility that manufacturers of the commercial foods we use could change the formulation at any time, without notice. Customers concerned with food allergies need to be aware of this risk. Nitro Ice Cream & Frozen Yogurt will not assume any liability for adverse reactions to food consumed, or items that may come in contact with while eating at any Nitro Ice Cream Food product. Fangoria Magazine and Productions bears no responsibility towards the manufacturing, handling or delivering of these food products. The Customer acknowledges that Nitro Ice Cream & Frozen Yogurt is an independent contractor licensed to manufacture Fangoria's Halloween Ice Cream Flavors for retail sales via website.
Related Posts:
Posted by
Amber Keller
on Friday, November 18th, 2011. Filed under
Headline
,
Lifestyle
,
Zines
. You can follow any responses to this entry through the
RSS 2.0
. You can skip to the end and leave a response. Pinging is currently not allowed.
Tags:
brain carnage
,
fangoria
,
hard ride to hell
,
ice cream
,
jack o lantern
,
nitro
,
nitrogen
,
zombie