Hesitant Alien: Thoughts on Gerard Way's New Album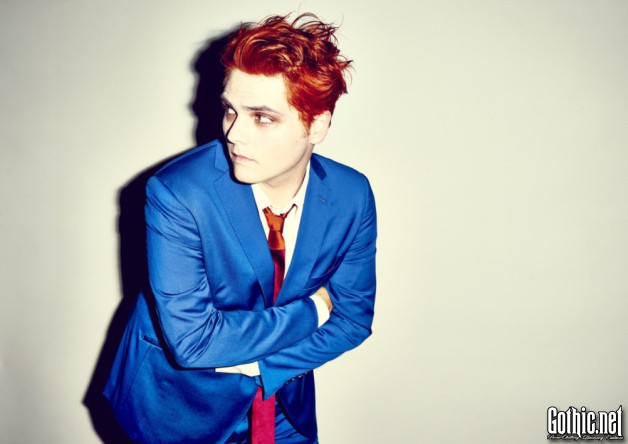 "Hesitant Alien" is an album that was just released September 29th, 2014 and I don't know about you guys but I've been excited about it since it was first announced. It is the solo album of vocalist Gerard Way who was the front-man for the group My Chemical Romance for 12 years.
Like many fans, I was really sad last year to see the band break up, but I was pretty sure that it wasn't the last we'd be hearing from many of the members, and sure enough, Gerard announced earlier this year that he was working on a solo album. I have been eagerly waiting on the edge of my seat since May of this year, and it has finally arrived.
His sound has definitely changed since MCR disbanded. "Hesitant Alien" seems to have more of an 80's glamcore edge to it, and to be honest I was a little disappointed. I heard that the early reviews for it were all pretty amazing, but I was hoping for something different in regards to sound. I've only had time to listen to it a couple times through, so there's a good chance that it will still sink in. I know I didn't like MCR the first time I heard them, and it might very well be the same way with this.
The one thing that I do see so far that I really like about the album is how personal it is. Gerard Way has had a lot of struggles in his personal life, and the darker points of his past definitely seem to be reflected in the lyrics. I always really enjoy music where you get to see the personality and history of the person who wrote it, because in general that seems to be more passionate which certainly seems to be the case here.
So far the two tracks that really stick out from the rest of the album (at least for me) are "Action Cat" and "Brother." "Action Cat" just has the most appealing sound to me, and "Brother" seems to have some of the most meaningful lyrics.
Of course, like with any album, I expect that as I listen to it my early opinions will come to change, and my favorite tracks will most likely change as well, since that always seems to be the case, but these are my initial thoughts on the new release. I'm really excited to hear what other people are thinking about it as well.
For those of you who are interested, the album is available from Amazon, in stores, and through iTunes for purchase. It's also available on Spotify already, for those of you who prefer to listen to it that way. At the bottom is the intergalactic official music video for "No Shows" the first single to have been released from the album.
Related Posts:
Posted by
Cat Voleur
on Sunday, October 12th, 2014. Filed under
Headline
,
Lifestyle
. You can follow any responses to this entry through the
RSS 2.0
. You can skip to the end and leave a response. Pinging is currently not allowed.
Tags:
gerard way
,
hesitant alien
,
my chemical romance
,
no shows