IFC Presents Tetsuo the Bullet Man On Demand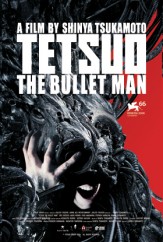 IFC has brought Shinya Tuskamoto's man machine classic Tetsuo movies to On Demand. Tetsuo III: The Bullet Man went live for On Demand this week.
Tetsuo III is the first Tetsuo movie to be made in English. IFC describes the impact the controversial director made in the West, before even making an English language Tetsuo, "Shinya Tsukamoto was among a group of directors responsible for a revival of innovative and daring Japanese cinema beginning in the early 1980's. TETSUO I: THE IRON MAN (1989), Tsukamoto's first major feature and a now legendary cyberpunk classic, was one of the seminal films made during this period. The Tetsuo films have won worldwide acclaim for their inventive visual effects and industrial themes, which are often cited as an influence by a generation of Western filmmakers including David Cronenberg, Quentin Tarantino, and Gaspar Noé, as well as Nine Inch Nails frontman Trent Reznor."
You can check out a Tetsuo photo gallery here.
Cast
Eric Bossick
Akiko Monou
Shinya Tsukamoto

Crew
Director:
Shinya Tsukamoto
Producers:
Shinichi Kawahara (Kaijyu Theater)
Masayuki Tanishima (Asmik Ace Entertainment)

Writers:
Shinya Tsukamoto
Hisakatsu Kuroki

About Tetsuo: The Bullet Man

Calm office worker Anthony, son of an American father and a Japanese mother, lives in Tokyo with his wife Yuriko and their little son Tom. Since Anthony's mother died of cancer, his scientist father has been overly fearful for their health and rigidly subjects Anthony and Tom to monthly physicals. Walking home, Tom is killed in a hit and run before Anthony's eyes. Losing their boy pushes Yuriko over the edge and triggers violent emotions in Anthony, whose body begins to transform. Little by little, his cells turn into iron. When the driver who killed Tom reappears and Anthony learns the truth about his father's past experiments on human guinea pigs and about his mother's death, Anthony mutates into a mass of metal – a human weapon fuelled by an uncontrollable rage.
Related Posts:
Posted by
Gothic.net
on Sunday, January 23rd, 2011. Filed under
Headline
,
Horror
,
Movies
. You can follow any responses to this entry through the
RSS 2.0
. You can skip to the end and leave a response. Pinging is currently not allowed.
Tags:
cyberpunk
,
david cronenberg
,
gaspar noe
,
ifc
,
quentin tarantino
,
shinya tsukamoto
,
tetsuo
,
tetsuo the bullet man
,
trent reznor