Immortalized, Episode 3: The Odyssey
Tonight we have the Challenger, Mike "Mac" McCullough, going up against the Immortalizer, Takeshi Yamada.
McCullough, from Ft. Louden, Pennsylvania, has been in taxidermy for 32 years and he calls his work art. He started more traditional, but over time has become more artistic. He's completed around 5,000 pieces during his career.
Yamada, from Osaka, Japan, is a former rogue taxidermy grand champion with a fear-inducing battle cry of, "Shazam!" He resembles a carnival barker with his suit and hat, and his unique accessory. He carries a sea rabbit that came from Coney Island, which is the center of the freak show and entertainment industry, claims Yamada. He's undefeated going into this episode, but will he be in the end?
The theme tonight is "The Odyssey".
Back in Pennsylvania, McCullough considers himself the outlaw of the taxidermy business. We get a little bit of his cocky attitude, which he doesn't deny. McCullough is thinking along the lines of Homer and a voyage. He will be making ruins from the city of Troy with tropical fish swimming around. The piece will be called "The Quest" and he sees this as a personal challenge as well as a professional challenge because he's never done a piece like this before.
At Coney Island, Yamada explains that artists are married to their art. He believes he was born for this purpose in life. We see some interesting sketches. With five, giant, fierce fox heads with faces that resemble a tiger and long necks and spikes coming out from their back. It is reminiscent of a hydra.
McCullough says that no one skins fish anymore for taxidermy, that it's all done with reproductions from a fiber glass body that is painted to resemble the fish. The hardest part is to make them look real. He claims that even though he's not skinning the animal it's still taxidermy.
Yamada collects dead animals from the Coney Island beach to use for his piece. His vision is grand, and his imagination is divine. After applying horns to the fox head, he has now effectively made a creature. Yamada takes the artistry very serious.
Back in the studio, there is much pressure as the two men work to reassemble their creations that have been shipped a considerable distance.
At the reveal we see a confident Yamada and a happy McCullough. McCullough explains that he wanted to create a piece of art. It's a large piece containing a scuba diver and various aquatic life including an otter and many beautifully colored fish diving around what looks to be ruins under the sea. One of the judges inquires about the use of a fiberglass fish instead of an organic specimen and McCullough says that this way you don't have to kill the fish; this work can be done directly from a photograph.
Yamada explains his representation of the theme was by using a five-headed monster that stood for life. His piece was about how he overcame the five-headed monster of life, especially during his recent challenge of Hurricane Sandy, which destroyed his home. We see his carnival barker presence as he reveals his creation with a spirited, "Shazam!" and a hearty laugh. It's a fantastical, mythological piece that Yamada has incorporated both his skin and blood to complete. In this way he sees them as his children as they are technically a part of him. Judge Brian Posehn inquires as to how much the piece will cost as it has hit home with his particular tastes.
With the two pieces being so different, in the end the judges chose the Immortalizer Takeshi Yamada as the yet undefeated winne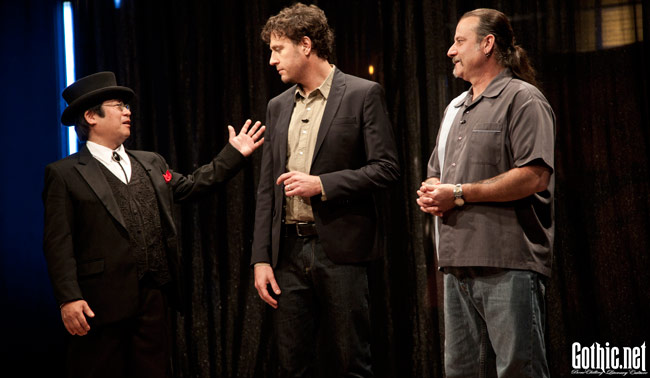 Related Posts:
Posted by
Amber Keller
on Thursday, February 28th, 2013. Filed under
Dark TV
,
Headline
. You can follow any responses to this entry through the
RSS 2.0
. You can skip to the end and leave a response. Pinging is currently not allowed.
Tags:
amc
,
immortalized