Immortalized, Episode 5: Love and War
In tonight's quest for the title, we see the challenger Rick Nadeau going head-to-head with the Immortalizer Page Nethercutt.
The challenger, Rick Nadeau, is from Mitchell, Illinois, and he's known as 'the squirrel man'. He can perform taxidermy on a squirrel in under two minutes. He's mounted over 2,500 squirrels in 10 years and claims nobody can do what he can do. His motivation to win is to help his taxidermy business so that he can do it full time.
The Immortalizer, Page Nethercutt, is from the North Carolina swampland and holds the former title of Taxidermist of the Year. Nethercutt has been on the program already, participating in episode two where he defeated CJ Fegan. Nethercutt is defending traditional taxidermy.
The theme tonight is "Love and War".
Nethercutt is a simple man who likes a quiet life. He speaks of tonight's theme as a romantic one with courtship and fighting included. For the love aspect he has two California quail locked in an intimate moment, and for the war aspect there are two males that will be fighting to get the female. We see him work on the birds representing war. His passion and patience, along with his attention to detail, is highlighted.
Nadeau is a calm fellow who works and comes home to his wife and squirrels. His first idea of the theme is the thought of a two-headed squirrel fighting over a nut; a kind of good squirrel/bad squirrel representation, but he eventually decides he wants to incorporate more. Nadeau reflects on Vietnam and will be doing a diorama using a military theme along with hippie squirrels in tie-dyed shirts, playing musical instruments. He has his family helping him collect already deceased squirrels to use in the piece. His affinity for props on his squirrels is quite amusing.
In the studio, the men have received the crates full of their pieces. As always, they work hard and steady to reassemble their projects. Nethercutt has lost a key screw in his piece and things become a little anxious, but he is quickly able to fix the problem. Nadeau's time seemed smooth and flawless.
With Nadeau going first, he explains to the judges that his representation of the theme was through his vision of a Vietnam-based interpretation. It's humorous and folksy with multiple squirrels as both hippies and soldiers in their own respective elements.
Nethercutt explains that he used the California quail as a nod to the state where the contest is taking place. He raised the birds to eye level for convenience and states that his piece is built on relationships. His piece has a simplistic but beautiful and elegant quality to it as the birds slowly rotate.
Nadeau's piece is commended for his idea, but labeled ambitious, while Nethercutt's artistic style is praised, and he is conversely asked for more drama since it is in fact for television. The winner tonight is revealed to once again be the Immortalizer Page Nethercutt. Traditional taxidermy reigned.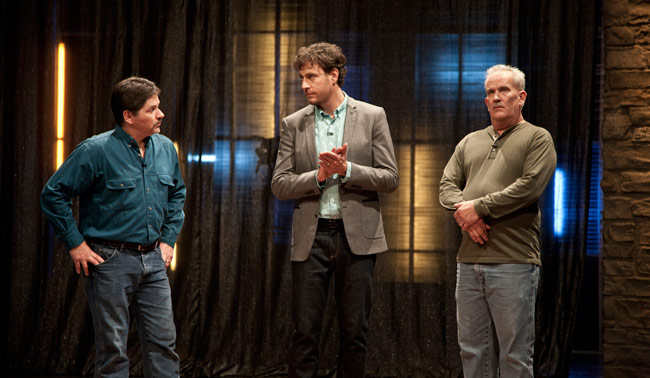 Related Posts:
Posted by
Amber Keller
on Thursday, March 14th, 2013. Filed under
Dark TV
. You can follow any responses to this entry through the
RSS 2.0
. You can skip to the end and leave a response. Pinging is currently not allowed.
Tags:
amc
,
immortalized
,
love and war