Margaret L. Carter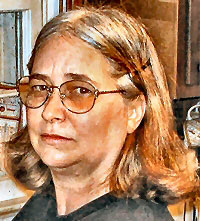 Margaret L. Carter received a B.A. from the College of William and Mary, M.A. from the University of Hawaii, and Ph.D. from the University of California, Irvine, all in English. She has taught literature and composition courses at various colleges and presently works as a part-time proofreader for the Maryland General Assembly.
Her first two books were paperback anthologies, CURSE OF THE UNDEAD and DEMON LOVERS AND STRANGE SEDUCTIONS. She has published several works on vampirism in literature, including SHADOW OF A SHADE: A SURVEY OF VAMPIRISM IN LITERATURE, the anthology DRACULA: THE VAMPIRE AND THE CRITICS, and THE VAMPIRE IN LITERATURE: A CRITICAL BIBLIOGRAPHY. Her stories have appeared in several of Marion Zimmer Bradley's Darkover anthologies, and her "Voice from the Void" appears in THE TIME OF THE VAMPIRES, edited by P. N. Elrod and Martin Greenberg. The Design Image Group published her werewolf novel, SHADOW OF THE BEAST, in 1998. Her vampire novel, DARK CHANGELING, appeared in electronic form in June, 1999, from the Hard Shell Word Factory and won the 2000 Eppie Award in Horror.
Two vampire romances in the same universe, SEALED IN BLOOD and CRIMSON DREAMS, and WILD SORCERESS, a fantasy novel in collaboration with her husband, Leslie Roy Carter, have been published by Amber Quill Press. Other fiction is in progress from Ellora's Cave and Amber Quill.
You can find all Gothic.net articles and fiction relating to Margaret L. Carter at tag Margaret L. Carter.
blogs: Alien Romances and VampChix
web site: Carter's Crypt
books on Amazon: Margaret L. Carter
Related Posts:
Posted by
Gothic.net
on Monday, February 7th, 2011. Filed under
Who's Who
. You can follow any responses to this entry through the
RSS 2.0
. You can skip to the end and leave a response. Pinging is currently not allowed.
Tags:
margaret l carter