Paul Kane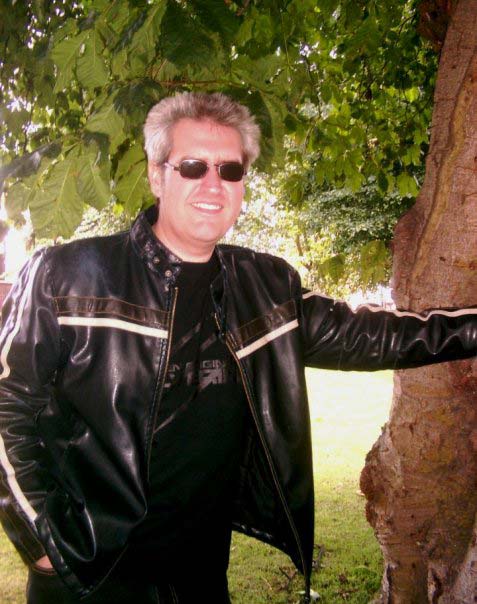 Paul Kane was born in the town of Chesterfield, Derbyshire (UK), in 1973, and grew up on an estate not too far away. The son of a miner and a former secretary, Paul developed a taste for the strange and outlandish at an early age, after his grandad read him a bedtime story about a mysterious house that dwelt within in a sea of fog. A rich diet of programmes such as The Incredible Hulk, The Six Million Dollar Man, Dr Who, Star Trek and Blake's Seven fostered this obsession, as did the US and UK comics his father used to buy him on frequent trips to a nearby village – it wasn't long after that Paul started to write and draw his own amateur comic books, though he would only show these to friends and family. Paul also admits to being hugely affected in his formative years by the American adaptation of The Martian Chronicles, ITV's screening of Philip Kaufman's Invasion of the Body Snatchers and the BBC's six-part adaptation of The Day of the Triffids.
In his early teens he discovered the joys of Horror, Science Fiction and Fantasy literature, raiding the local second-hand book shops for anything and everything associated with these genres. Paul read insatiably, often sneaking away during school dinner hours to lose himself in the pages of such tomes. Favourite authors soon began to emerge from the pack: James Herbert, Frank Herbert, Stephen King, Ray Bradbury, Brian Lumley, Arthur C. Clarke, Michael Moorcock, Richard Laymon, Isaac Asimov, H.P. Lovecraft and, in particular, Clive Barker (this list would expand as Paul grew older to encompass people such as Christopher Fowler, Simon Clark, Michael Crichton, Robert McCammon, Neil Gaiman, Thomas Harris and many more).
Inspired by what he read, Paul had a go at a few stories and novels himself (never completing any of them!) and incorporated what he'd learnt into his English work – often to the exasperation of his teachers. Upon leaving school, he attended a General Art and Design course at Chesterfield College. These two years were a revelation, allowing Paul the freedom to pursue numerous different artistic routes, including painting, poetry, design, film-making and photography. He showed a natural affinity for the latter two, but in spite of the fact that a handful of his prints went on to be shown in a travelling exhibition abroad, Paul applied for a theory course at Sheffield Hallam University after gaining consistently high marks for his critical essays.
Their History of Art, Design and Film course permitted him to study his three favourite subjects in some depth, but also gave him the opportunity to take supplementary units in journalism and professional writing. Up until this point, Paul wasn't really sure what he wanted to do for living. Now he knew. He wanted to be a writer.
When he left university in 1996, he decided to bolster his skills by doing a writers' home study course, a proof-reading course and a couple of courses in computing. Using the contacts he'd already made, Paul set himself up as a freelance writer, providing articles and reviews for various news-stand publications under different names (these included two Science Fiction magazines, a film magazine, a TV journal and even a children's monthly). During this period, Paul also became a film critic for a local newspaper, attending all the latest premieres, did some illustration work – mainly for the front of greeting cards – and won one or two writing competitions.
In 1998, he spotted an advert in a trade magazine for a new Horror fiction publication called Terror Tales. The editor, one John B. Ford, also lived near Chesterfield. Paul took this as a sign, and immediately submitted a short ghost story he'd been working on called 'The Cave of Lost Souls'; his first piece of fiction in almost ten years. The story was accepted and Paul was invited to attend a gathering of horror writers at Joplin's bar in Chesterfield. That Thursday evening he was introduced to the world of the small press magazine by John B. Ford, the proprietor of BJM Press (who would become one of Paul's greatest champions and friends) and Derek M. Fox, author of Recluse.
Within the space of six months, Paul had had several more pieces accepted by other magazines and had also attended the now legendary Terror Scribes gathering in the Howard pub, Sheffield, where he met Simon Clark (bestselling author of Nailed By The Heart and Vampyrrhic) for the first time. It would be just one of many such events he'd attend.
The following year, Paul came second in the Black Hill Books Horror Story Competition judged by Guy N. Smith ('Blackout' was published in Graveyard Rendevous shortly afterwards) and was offered a position as a major contributor to a book on contemporary American directors published by Wallflower Press. The story credits were also racking up as some of his most popular tales were released: 'Astral' (the first Controllers piece, featured in an early edition of The Dream Zone and was voted one of the best stories of the year by readers); 'Star-Pool' (a Lovecraftian horror published in David Price's Tales of the Grotesque and Arabesque); 'St August's Flame' (a cautionary yarn about seeing into the future, used in an issue of Strix) and 'Shadow Writer' (his inaugural Brotherhood of the Shadows story, printed in Enigmatic Tales). In addition, Paul was also busy working on the MA he started in the winter of 1998.
But things would get even busier. On November 4th he was contacted by an American publisher and told that his collection Touching the Flame, reprinting these stories and more, had been accepted and was to see print in trade paperback in late 2000. At the same time, John B. Ford was interested in producing a BJM collection featuring 95% new material which Paul had to come up with by mid-2000. Not only did he do this, but he also provided the illustrations and cover photography…
Then he was asked to contribute a few reviews and conduct some interviews for the Terror Tales E-mail Magazine, which would, over the course of 2000, evolve into a fully-fledged website designed by Simon Logan and co-edited by Paul. Touching the Flame unfortunately didn't appear in 2000 because the publishers closed down, but it was picked up by Rainfall Books in 2002 and brought out as a much longer collection in tpb format (almost 80,000 words; the book was translated into German and published over there in 2005). In the meantime BJM Press published Alone (In The Dark) which gained some excellent reviews from magazines like SFX and Writers' News.
Over the course of the last few years Paul has had stories published in major anthologies on both sides of the Atlantic featuring names like Ramsey Campbell, Steve Rasnic Tem, Brian Stableford, Stephen Gallagher, Peter Straub, Michael Marshall Smith and Simon Clark. His work has been featured in the Assembly of Rogues DVD and anthology, as well as being read out on BBC Radio 2, and he has gained several British Fantasy Society Award Recommendations and Nominations (shortlist), plus Honorable Mentions in The Year's Best Fantasy & Horror edited by Ellen Datlow. In addition, Paul won the 2008 Editor's Choice 'Dead of Night' Award for his short story 'A Chaos Demon Is For Life' which appeared in Estronomicon magazine.
For five years he served as Special Publications Editor of the BFS working on projects with authors such as Clive Barker, Neil Gaiman, Brian Aldiss, Robert Silverberg, Muriel Gray and John Connolly, and his essay about Hellraiser was featured in the Bram Stoker Award-nominated Cinema Macabre alongside genre names such as Simon (Shaun of the Dead) Pegg, Mark (League of Gentlemen) Gatiss and Jonathan Ross, who wrote the introduction. Hellraiser was also the subject of his hardback book, the critically acclaimed The Hellraiser Films and Their Legacy, introduced by Doug 'Pinhead' Bradley, which reached the nominations stage of the BFS Awards 2007.
Paul was on the organising committee of FantasyCon for two years (as Co-Chair in 2008) where he welcomed Guests of Honour such as Terry Brooks, Stephen Jones and James Barclay, and is co-chairing 2011's event with Guests of Honour including World Fantasy Award-winner Gwyneth Jones and John Ajvide Lindqvist, bestselling author of Let the Right One In (filmed as Let Me In for the US). Paul was also on the organising committee of the 20th World Horror Convention in Brighton, which headlined guests such as James Herbert, Tanith Lee, Les Edwards and Ingrid Pitt. He has himself been a Guest three times at Derby's Alt.Fiction Festival and was one of the Guests at the inaugural 'SFX Weekender' in February 2010, where he featured on the schedule alongside people such as Dr Who and Primeval scriptwriter Paul Cornell, Watchmen co-creator Dave Gibbons, Tom Baker and creator of Being Human, Toby Whithouse.
In 2008 his story 'Dead Time' (published in The Lazarus Condition) was developed by Lionsgate/NBC for the US network show Fear Itself. This was adapted by Steve Niles – creator of 30 Days of Night – and Ben Sokolowski of Bad Robot (Lost, Cloverfield) under the title New Year's Day, directed by Darren Lynn Bousman (SAW II-IV), with effects from Oscar-winners KNB (Chronicles of Narnia). That year also saw the release of his first mass market novel Arrowhead for Abaddon/Rebellion, publishers of 2000 AD (a post-apocalyptic reworking of the Robin Hood legend) in the UK & US. Two sequels have since appeared, Broken Arrow(2009) and Arrowland (2010) and the novels have gone on to become critically acclaimed bestsellers. He is currently involved in various exciting projects – which includes film work (his story 'The Weeping Woman' has been turned into a film by award-winning director Mark Steensland, and stars Tony-Nominated actor Stephen Geoffreys from Fright Night), graphic novels and editing the Shadow Writer and Terror Tales print anthologies. Paul also runs a hugely successful creative writing class (his students won the David St John Thomas Charitable Trust Anthology Award in 2009) and delivers workshops throughout the country about genre writing. Recent publications include his fourth collection Peripheral Visions (introduced by Christopher Fowler with cover art from Les Edwards), the novella RED (which features artwork from Dave 'The Graveyard Book' McKean), Of Darkness and Light (featuring a cover from the award-winning Vincent Chong and introduction from Mike Carey), the supernatural serial killer novel The Gemini Factor, plus a 10th Anniversary Limited edition reprint compilation of Alone and Flame, called simply Shadow Writer, and a non-fiction interview book called Voices in the Dark. Paul is an active member of The British Fantasy Society, The International Association of Media Tie-In Writers and the Horror Writers' Association. He lives in the Midlands with his wife – the horror writer Marie O'Regan – his family and a black cat called Mina.
You can find all Gothic.net articles and fiction relating to Paul Kane at tag Paul Kane.
web site: Shadow Writer and Arrowhead Trilogy
Facebook: Paul Kane
books on Amazon: Paul Kane
Related Posts:
Posted by
Gothic.net
on Thursday, May 12th, 2011. Filed under
Who's Who
. You can follow any responses to this entry through the
RSS 2.0
. You can skip to the end and leave a response. Pinging is currently not allowed.
Tags:
paul kane