Steve E. Wedel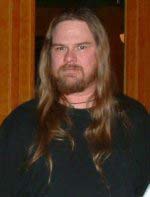 For the most part, Steve E. Wedel had a boring, uneventful childhood — no child abuse, no incest with his sisters, no Huck Finn-type adventures. Things were pretty calm at the Wedel home. Despite a stable home with no alcohol, drugs or fetish equipment, he still managed to turn out a little warped. The Pentecostal church services are probably to blame for that.
Steve E. Wedel was born in Stillwater, Okla., in 1966 and moved to Enid, Okla., about a year later. Some of his earliest memories are of watching The Foreman Scotty Show on a black-and-white TV and winning a call-in contest on the show; the prize was a T.G.&Y. gift certificate. He played in the dirt a lot and had a fire engine peddle car he rode like hell on the family's back patio.
Somewhere back then, he recalls his mom and aunt letting him watch Hitchcock's "The Birds." That scared him a lot.
He has two sisters, both of whom would tell you completely untrue things about growing up with him. He was the perfect angel of a brother.
In the fall of 1979 Steve E. Wedel met a girl named Kim Hager in the Longfellow Junior High School band. In 1980 they started "going together" and in 1985 they got married. Today, they've got four kids and he says he still kinda likes the old lady.
Steve E. Wedel began writing seriously in 1985, too. There was very little success for a long, long time. His first short story acceptance came in 1987, but that magazine folded before the story was published. His first fiction publication was a story called "Unholy Womb" in the October 1992 issue of The Midnight Zoo.
After high school, he spent 10 years working in machine shops, a career he hated. In 1992 he had a poem published in The Writer that pretty much summed up his life view:
Life on the Clock
The dreariness of tomorrow
Laps onto the shores of today
As I flee
The desolation of yesterday.
At the age of 29, Steve E. Wedel decided to go to college. He earned a BA in journalism from the University of Central Oklahoma in December 1999. In December 2004 he finished the requirements for a master of liberal studies degree through the University of Oklahoma. From 1997 until 2006 he worked as a reporter for newspapers, including The Oklahoman, The Journal Record and OKC Business News, or as a communications specialist for Conoco Inc., or as director of public relations for Oklahoma City University and the South Oklahoma City Chamber of Commerce. His last PR job was with the Oklahoma Department of Transportation. Steve E. Wedel was 40 years old and there was something missing in his life.
So he became a teacher. He now teaches English, and various related subjects like creative writing, science fiction literature, etc., at Western Heights High School. In many ways he feels it's the hardest job he's ever had, but the reward of seeing a student come to appreciate "Beowulf" or almost dance with excitement over finishing her first short story is a reward you don't get in any other profession.
Steve E. Wedel and the family live in central Oklahoma these days. He used to want to move to Oregon, but he supposes he'll always be an Okie, and that's OK, really.
You can find all Gothic.net articles and fiction relating to Steve E. Wedel at tag Steve E. Wedel.
web site: Steve E. Wedel and Werewolf Saga
Twitter: @stevewedel
Livejournal: sewedel
Facebook: Steve E. Wedel
books on Amazon: Steve E. Wedel
Related Posts:
Posted by
Gothic.net
on Tuesday, May 10th, 2011. Filed under
Who's Who
. You can follow any responses to this entry through the
RSS 2.0
. You can skip to the end and leave a response. Pinging is currently not allowed.
Tags:
steve e wedel