SyFy Face Off — Live Finale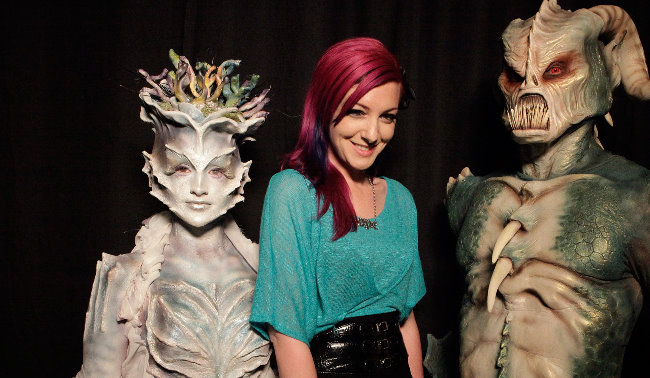 On the Halloween night live finale of Face Off season three, the grand prize winner was announced: Nicole Chilelli. Her season played out with a nearly perfect Hollywood three-act structure, from the unfair elimination, unexpected chance at salvation, and ultimate rise to victory.
The live finale was a lot of fun, with all the contestants and judges (except Ve, who's working on the Hunger Games sequel), and the luminous McKenzie Westmore as master of ceremonies. We were treated to retrospectives on the three finalists, checked in with the other contestants to see what they've been up to (Tommy lives in the "Face Off Frat House," as McKenzie put it; Jason is working on Saturday Night Live; CC has her own make up brush line).
The humorous segments were adorable. We learned that Glenn and Neville throw around $10 words like crazy (I'd never noticed, honestly). Guys that can just casually drop "sexual dimorphism" or "cephalopod" into a conversation are my kind of people. The superedit of Alana's catchphrases killed me. "Wham bam thank you maam." There's a reason she got quote of the week pretty much every episode until she got eliminated. In the gag reel, we learned that Neville's wicked sense of humor causes a lot of trouble – he couldn't keep a straight face when discussing the child-designed "tickle-monster."
Season four of Face Off will premier in January, and we got a sneak peek last night. They only announced that the show was renewed a few weeks ago, so I was surprised to see that most of the season has already been shot. We caught glimpses of some very impressive creatures and some interesting looking characters (the contestants).
In the end, this came down to the three finalists. They took center stage and waited with obvious nervousness. I don't usually comment on how a contestant looks unless it's really notable, and in this case, I have to point out how stunning Laura looked in that black and silver dress. She out-glammed McKenzie, and that's saying a lot. Derek and Nicole turned the style up a notch, too (although Derek dresses up like I dress up, i.e. by not wearing jeans).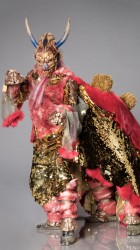 Nicole won – the car, the $100,000, the lecture gig, all hers. Congratulations, Nicole!
All three finalists (and really any of the top five) would have been deserving winners. Derek seemed to stay under the radar a bit – he did workmanlike designs some weeks, good enough to keep him out of the bottom looks, but not very remarkable either. But he was also capable of doing work so amazing it blew anything on the show out of the water. His (and Tommy's) Chinese dragon was so detailed and perfectly painted. His cyborg with the one giant glowing red eye was one of the best designs I've seen in three seasons of Face Off.
Laura was the only contestant who was never at risk of elimination. Not a single bottom look. And as much as I declared Nicole my favorite based on her finale designs of the water witch and demon, deep inside I know that Laura really deserved to win. Her work was not just consistent, but consistently awesome week after week (her sole crummy design was her cyborg).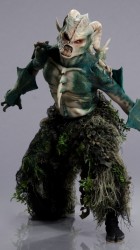 Of course, you can't possibly argue that Nicole didn't deserve to win either. I've seen people complaining that getting eliminated and brought back was unfair. Look at it this way – the week she got booted, she did do a muddy paint job…because her airbrush broke. Even so, it was nowhere near bad enough to get her eliminated. So the judges screwed up, and the cosmic wheel (or the almighty will of the producers) turned and all was right in the universe, with Nicole getting her second chance.
By the way, did you guys know that Nicole once appeared on an album cover? Check it out: Those We Leave Behind by I Am Ghost.
With the winner being left up to audience voting, it was kind of a foregone conclusion that Nicole would win. The whole "second chance" story, the fact that she has fibromyalgia (which I'd totally forgotten about, which is to her credit, because she never once played the "I have a disease" card leading up to the finale), and the simple fact that she's a very sweet, charismatic person on TV made it almost inevitable that the audience would vote for her in droves.
What I'm really saying is, I wish all three could form one giant make up artist Voltron and all win. Well, I have no doubt that the awesome talent displayed by Derek and Laura and the exposure that Face Off provided will serve them well, even though they didn't win. If I were a producer or an effects coordinator, Face Off would basically be my make up farm team, the go-to place for finding new talent.
Related Posts:

Posted by
Ed Grabianowski
on Thursday, November 1st, 2012. Filed under
Dark TV
,
Headline
. You can follow any responses to this entry through the
RSS 2.0
. You can skip to the end and leave a response. Pinging is currently not allowed.
Tags:
face off
,
face off season 3
,
nicole chilelli
,
syfy