SyFy Face Off Season 3 Preview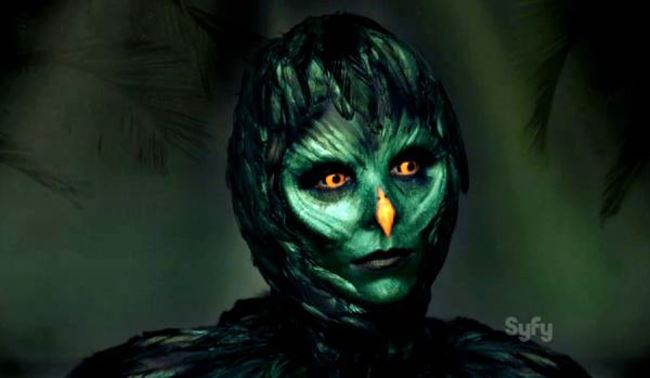 The third season of SyFy's make-up/monster design reality show Face Off debuts on Tuesday, August 21. How does Face Off work? Who won last season? Who's in this season? Who are the judges? We have all the answers — plus an exclusive interview with season 2 winner Rayce Bird.
In Face Off, a group of up-and-coming make-up/effects artists and designers are pitted against each other in weekly challenges. A panel of judges assess the results and pick one artist per week who doesn't make the cut to be eliminated. One contestant is also singled out as that week's "winner." I'll be recapping every season 3 episode Tuesday nights here at Gothic.net, pointing out the best designs, the crash-and-burns and the inevitable personality conflicts.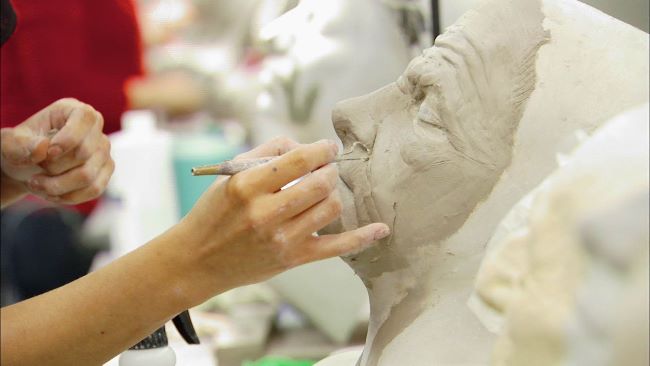 Before you write this off as just another crap reality show, consider a few things. First, the contestants have serious talent. Even the ones who flame out in the first few weeks have wicked skills. It's awesome to see those abilities on display.
Second, the members of the judge panel are eminently qualified to sit in judgment. Ve Neil has a powerful resume (Beetlejuice, The Lost Boys, Edward Scissorhands) and a mantle bowed with the weight of dozens of awards, including three Oscars. Glenn Hetrick owns Optic Nerve Studios and has worked on Buffy, The Hunger Games, and CSI: NY among others. New judge Neville Page's credits include Cloverfield, Avatar, Prometheus, and The Amazing Spider-Man (Page replaces Underworld: Rise of the Lycans director Patrick Tatopoulos, whose design/FX credits include Godzilla, Silent Hill, and I Am Legend). Even the show's host is actress McKenzie Westmore. Not only has she acted in several effects-heavy films (Star Trek: Insurrection, Weird Science), the Westmore family is renowned for decades of work in the make-up and FX industry.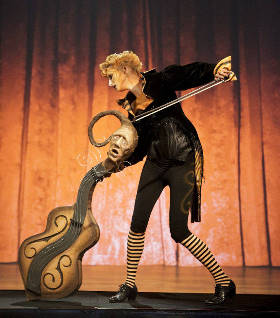 Last season's finale featured three finalists all so talented that any of them could have won. Ultimate winner Rayce Bird (whom we'll hear more from tomorrow) created amazing concepts and brought them to life under insane pressure and time constraints – like this musician and her living cello. Watching the contestants go from a sketched concept to a completed make-up in two or three days blows my mind every time I see it.
This season will feature 11 contestants with a wide range of talents, from make-up to design to sculpting to air-brushing to fabrication. They range in age from 21 to 47. Some of them have experience working on films, some are straight out of school. Based on the previews, it looks like some of the weekly challenges will feature set piece action scenes, not just applied make-ups. That's certainly going to crank up the difficulty level – and the pressure.
There's usually a guest judge each week as well (we'll be seeing Kevin Smith this season, apparently). I only hope the producers have made the top spot each week worth something. I found it odd last season that the judges would name a winner, but there didn't seem to be any kind of prize. They were always fighting to avoid being eliminated, but there was no benefit to "winning" until the final week, when the overall winner scored $100,000, a new car, and $25,000 worth of Alcone make-up. Maybe give them first pick in the following week's challenge.
To get yourself fully caught up before season 3 begins, you can check out bios of all the new contestants, and watch a few full episodes from last season at SyFy.
Related Posts:

Posted by
Ed Grabianowski
on Tuesday, August 14th, 2012. Filed under
Dark TV
,
Headline
. You can follow any responses to this entry through the
RSS 2.0
. You can skip to the end and leave a response. Pinging is currently not allowed.
Tags:
alcone
,
face off
,
glenn hetrick
,
neville page
,
rayce bird
,
season 3
,
syfy
,
ve neil