The Hunger Games (video trailer)
In a post-apocalyptic, dystopian world known as Panem, there's a lottery. But this isn't the kind where you win money; instead, with this lottery, children win the chance to survive the Hunger Games. Coming to theatres on March 23, "The Hunger Games" is hoping to cash in on the target audience that the popular Twilight saga enjoyed. As of right now, theatre ticket pre-sales have surpassed both the Twilight and Harry Potter movies. The wildly successful books, authored by Suzanne Collins, are a trilogy, with the first one titled, "The Hunger Games", having been released in 2008. The main character, a 16 year old heroine named Katniss Everdeen, volunteers herself for the games when her younger sister is chosen. There are 12 districts in Panem, and in each district both one boy and one girl are picked to fight. According to the rules, only one will survive in the end. Having a unique premise, this movie is sure to bring in viewers, if only to see a fresh idea and a deviation from the more recently popular paranormal-based movies. Check it out for yourself and decide!
The Hunger Games
Every year in the ruins of what was once North America, the Capitol of the nation of Panem forces each of its twelve districts to send a teenage boy and girl to compete in the Hunger Games. A twisted punishment for a past uprising and an ongoing government intimidation tactic, The Hunger Games are a nationally televised event in which "Tributes" must fight with one another until one survivor remains. Sixteen year old Katniss Everdeen volunteers in her younger sister's place to enter the games, and is forced to rely upon her sharp instincts as well as the mentorship of drunken former victor Haymitch Abernathy when she's pitted against highly-trained Tributes who have prepared for these Games their entire lives. If she's ever to return home to District 12, Katniss must make impossible choices in the arena that weigh survival against humanity and life against love. THE HUNGER GAMES is directed by Gary Ross, with a screenplay by Gary Ross and Suzanne Collins and Billy Ray, and produced by Nina Jacobson's Color Force in tandem with producer Jon Kilik. Suzanne Collins' best-selling novel, the first in a trilogy published by Scholastic that has over 26 million copies in print in the United States alone, has developed a massive global following. It has spent more than 180 consecutive weeks/more than three consecutive years to date on The New York Times bestseller list since its publication in September 2008, and has also appeared consistently on USA Today and Publishers Weekly bestseller lists.

Starring: Jennifer Lawrence, Josh Hutcherson, Liam Hemsworth, Woody Harrelson, Elizabeth Banks, Lenny Kravitz, Stanley Tucci, Donald Sutherland, Wes Bentley, Toby Jones, Amandla Stenberg, Alexander Ludwig, Isabelle Fuhrman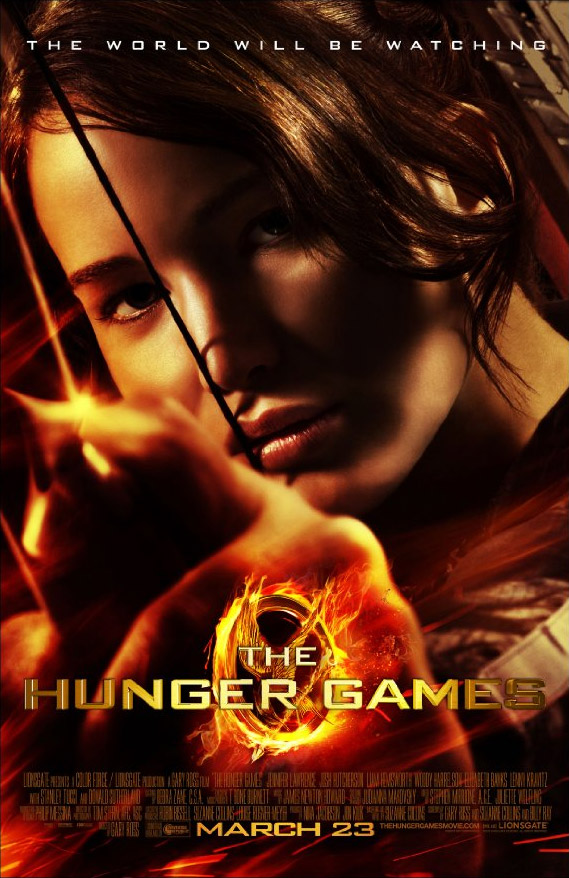 Related Posts:
Posted by
Amber Keller
on Saturday, March 17th, 2012. Filed under
Headline
,
Movies
,
Video
. You can follow any responses to this entry through the
RSS 2.0
. You can skip to the end and leave a response. Pinging is currently not allowed.
Tags:
bestseller
,
jennifer lawrence
,
josh hutcherson
,
katniss everdeen
,
panem
,
suzanne collins
,
the hunger games