Unspeakable Horror 2: Abominations of Desire Call for Submissions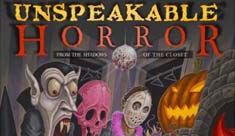 The folks at Dark Scribe are reading for a sequel to their Bram Stoker award-winning Unspeakable Horror: From the Shadows of the Closet
anthology. This is an opportunity to have work in a high-paying market with award potential.
Desire – the feeling that accompanies an unsatisfied state.

What happens when human desire twists, bends, warps, mutates? What happens when desire is fed? Starved? UNSPEAKABLE HORROR 2: ABOMINATIONS OF DESIRE, the sequel to the Bram Stoker Award-winning anthology, will explore the dark underbelly of desire – whether contained and constricted or unleashed and unrestricted. We are looking for stories that stress the force of physical appetite or emotional need, tales that explore the strong, envious longing for the unattainable.

Horror built around sexual desire:

• Unrequited love;
• Repressed lust that, when unleashed, crosses lines into the unfathomable;
• Fear of the bedroom creeping into the boardroom. Think sexual underground creeping into everyday suburbia;
• Exploration of satyriasis, nymphomania, and fetishes that consume and their effects upon the individual and/or those around them;

Horror built around extreme longing:

• Craving or coveting something that comes into conflict with societal norms;
• Quests for power or control, wealth or material objects

What we want:

• This is an LGBT/horror anthology. Stories must have a strong, central gay, lesbian, bisexual, or transgender focus/slant/theme.

• Stories with a strong, literary feel and crafted with language that captivates

• Stories with a strong sense of atmosphere

• Stories that shock and/or provoke – but for the right reasons. We want that shock and provocation to sneak up on us versus clobbering us over the head. We want material that elicits an emotional response of some kind and leaves us with our jaws hanging open upon conclusion.

• If pursuing the sexual desire angle, we want provocative yet edgy stories – not graphic pornography for the sake of titillation. Any erotic or hardcore elements need to be germane to the tone, theme, and story itself.

What we don't want:

• Straightforward erotica

• Stories that confuse LGBT sexual orientation with pedophilia

• Science fiction

• Zombies, werewolves, and vampires will be a hard sell unless you've got something singular to offer.

Tips from the submissions process for the first volume of UNSPEAKABLE HORROR:

• It doesn't take an authentic gay person to imbue a work with an authentic gay POV. It takes talent.

• There's a difference between seamlessly weaving keen political commentary throughout the fabric of a story and dropping a political rant into the middle of it. Save the political speeches for Barack Obama – chances are, he's better at them.

• We want to experience terror from the stories – not suffer nightmares from the grammar. Line edit, proofread, line edit some more, proofread. Repeat until verb tenses agree, the punctuation doesn't upstage your characters, and sentences enjoy self-actualization.

• The stories that blew our socks off the last time around were the ones with a strong sense of setting and mood. Avoid the clichéd gay bar scene unless you possess the extraordinary talent to bring something mind-numbingly unique to the table.

• Please. We beg of you…no psycho trannies or lesbian revenge tales in which someone's unmentionables are chopped, eaten, or otherwise lopped off.

• This is a gay-themed horror anthology. We're looking for horror tales with a strong queer subtext – not straight horror stories with a gay character or two thrown in to meet a quota.

• Horror sometimes demands a suspension of belief – not a suspension of logic.

• Click here for additional tips from our readings for the first anthology.

How to submit:

First, unless you are one of the 7-8 authors invited to be part of this project, do not send us your stories. As with the first anthology, we require a well-crafted query first. Please note some helpful email query guidelines here. As with all Dark Scribe Press calls for submissions, your query represents our first impression of you and your story. Avoid rattling off an abstract to us in an informal email – chances are we'll pass. We're looking to see that writers have given thought to their story and have the ability to articulate those thoughts.

Email queries to Submissions(at)DarkScribePress(dot)com beginning April 1, 2011. Response time to queries is within 30 days. Once a query is greenlighted, the deadline for actual submissions is June 30, 2011. Response time to submissions is 30-60 days. Please put "Query / Unspeakable 2″ in the subject line of all emails to help us efficiently route your emails. Kindly note that queries with attachments will be deleted – again, do not send your story until you have queried us first. Once we have reviewed your query and responded indicating our interest in considering a submission, please adhere to the following format:

• Send as Word attachments only – do not send submissions in body of email
• Use Courier, 12-point font
• Double space body of story
• 5-space indent at beginning of new paragraphs
• No manual page breaks
• No extra spacing between paragraphs – the 5-space indent will tell us where a new paragraph begins
• Use 1-inch margins – this includes top, bottom, left and right
• Working title of story center on first page – may be all caps, no quotations
• No headers or footers
• No page numbers
• At the top of the first page in the left-hand corner, single-spaced, please include the following information:

Name
Street Address
City, State, Zip Code
Email Address
Word Count (body of submission, excluding title)

Terms: Pays $0.05 (five cents) per word upon acceptance for First World Anthology and First Electronic Rights.

No simultaneous submissions and no reprints.

Anthology is slated for 4th quarter 2011 publication – subject to change.
Related Posts:
Posted by
Gothic.net
on Wednesday, March 23rd, 2011. Filed under
Professional
. You can follow any responses to this entry through the
RSS 2.0
. You can skip to the end and leave a response. Pinging is currently not allowed.
Tags:
abominations of desire
,
award
,
bram stoker
,
dark scribe
,
lgbt
,
unspeakable horror