Zombie Survival Map
Are you ready for the zombie apocalypse? You are now that the team at Doejo have designed this game in order to prepare the masses for a zombie invasion. Once you go to the Zombie Survival Map website, you can share your location or type in your zip code, city or address. Utilizing Google Maps and Google Places API, you are then positioned on a map with a zoomed in aerial view of your general location. The map gives you the options to view it as a simple map or with Danger Zones or No Danger Zones. With Danger Zones active, you are shown red blocks of color on a black map. The red indicates areas with man-made structures, which you would want to avoid due to the danger during a zombie event. The bigger the danger zone, the more buildings. The more buildings, the more people and ultimately the more zombies. There is a key at the bottom that marks strategic locations on the map that can be used to find resources such as gun stores and grocery stores or places that would need to be avoided. I know, you're already thinking ahead and saying to yourself, what about when the internet goes down, how do I access the map then? No worries – just print it out and put it in your wallet for when the going gets tough. With a game in the works, Map of the Dead will soon be available on your smartphone, putting the zombie apocalypse in the palm of your hands. Visit the Map of the Dead and scope out your area to start mapping out an escape plan before the zombies arrive.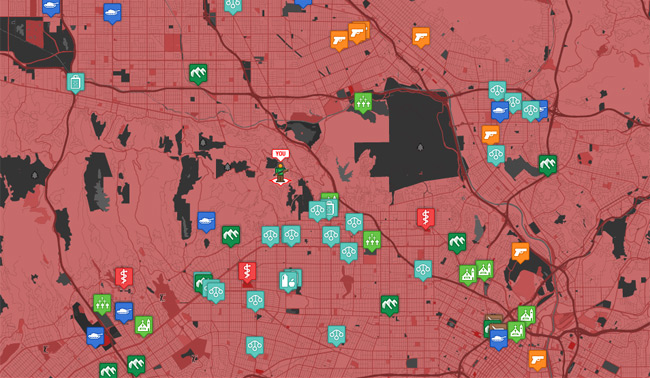 Related Posts:
Posted by
Amber Keller
on Tuesday, September 11th, 2012. Filed under
Games
,
Headline
,
Horror
. You can follow any responses to this entry through the
RSS 2.0
. You can skip to the end and leave a response. Pinging is currently not allowed.
Tags:
zombie
,
zombie apocalypse
,
zombie survival map
,
zombies