Gothic.net Panel of Experts: Best Releases of 2010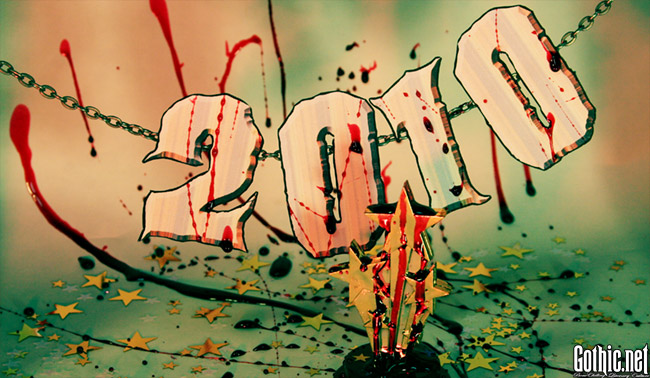 Question: What 2010 horror releases (film or book) did you find most notable?
The results are in from our Gothic.net Panel of Experts. Literary horror culture is aware of history and how literature, in whatever medium, builds upon what came before. So a lot of us spent 2010 catching up on releases from prior years or re-watching and re-reading classics.
It makes sense then that many of the major motion picture releases of 2010 were remakes, riffs, and sequels. We liked The Crazies, starring Timothy Olyphant, and The Wolfman, starring Anthony Hopkins and Benicio del Toro. We are tired of the SAW franchise, but Paranormal Activity still spooks. The Last Exorcism and Let Me In also appealed. We weren't sure if Black Swan, Inception, or 127 Hours definitely count as horror, but we know what we like, when we see it, especially Black Swan.
On television, we liked Showtime's Dexter and AMC's Walking Dead. We like our dark TV with book tie-ins and character-driven horror.
In print, Justin Cronin's The Passage breathed new life into vampires for us. Joe Hill's Horns delighted with revenge and the power of the devil. Steven King's novella collection Full Dark, No Stars was a wonderfully grim read. A Dark Matter by Peter Straub and Deathwatch by Lisa Mannetti also both received multiple notable mentions.
Charlie Huston's Sleepless was a remarkable take on the zombie apocalypse and a really moving and interesting character study. I don't always like how Alex Bledsoe wraps up his storylines, but his The Girls with Games of Blood was a compelling read, and managed to be fresh in the vampire genre, which is no mean feat. I didn't see a lot in the theaters this past year, but, if it counts as horror, I really liked this most recent season of Showtime's Dexter. AMC's Walking Dead started out really strong, but it kinda went out with a whimper.

—Amelia G, writer
I really wish I had a list to refer to. I probably haven't seen that many. I know I didn't read much horror. I read a lot of non-fiction, mostly. This past year was big year for me to relearn physics and study advanced tensor-torsion, and read about Nicolai Tesla and a few obscure Russian and German physicists. I actually went back and read some of Isaac Newton's published theories instead of getting them second hand as most of us have our whole lives. I very much enjoyed AMC's series The Walking Dead. I've been catching up on Dexter, which I love: Character!

—Matt Kennedy, writer
1. Black Swan – I felt this as soon as the light hit the screen. Love this flick. Extraordinary.
2. Enter the Void – Gaspar Noe. 'Nuff said.
3. Amer – Only released theatrically in New York and LA. A dynamite exploration of sexuality through the use of giallo filmmaking tools. Outstanding.
4. Machete – Great fun! Loved seeing something like this on 42nd street.
5. [REC] 2 – Fear and tension done right. Hardcore.

—Shade Rupe, writer
Sorry, I'm WAY behind. But The Last Exorcism was very well done until the last 10 minutes – maybe worst ending of a movie ever.

—Alexandra Sokoloff, writer
Does Inception count as horror? I thought that was clever. I enjoyed Peter Straub's A Dark Matter and King's Full Dark, No Stars and got a kick out of Horns by Joe Hill. Mr. Peanut by Adam Ross might qualify, too. To be honest, I rarely watch horror films and only occasional read horror fiction.

—Bev Vincent, writer
I really liked Paranormal Activity 2. Also enjoying King's Full Dark, No Stars.

—Anthony Izzo, writer
I very much enjoyed the remake of The Crazies and Resident Evil: Apocalypse.

—Alice Henderson, writer
Movies (some of these were made earlier, but only became available in the USA on DVD in 2010. Also, I still haven't seen a lot of 2010 releases!): Daybreakers, The Last Exorcism, Suck, I Sell the Dead, Dead Snow, Let Me In, Predators, Frozen

Books: The Fall (Del Toro and Hogan), A Gathering of Crows by Brian Keene… I think everything else I read this year wasn't actually published in 2010.

—Chad Savage, dark artist
The Wolven by Deborah Leblanc. As far as movies go, no horror release wowed me. In general, I really enjoyed Inception and Iron Man 2.

—Carl Alves, writer
I don't know whether I consider this the most notable book of 2010, but it's at the top of my list of books I enjoyed immensely: Horns by Joe Hill. It's one of those books whose characters have stuck with me all year, as if they were real people. It probably wasn't the scariest book of 2010, but it was certainly thought-provoking and an all around good read.

—Elizabeth Blue, writer
Notable for a fairly crappy year in film. A lot of non-fiction books were interesting

—Del Howison, writer
The Passage by Justin Cronin. I resisted reading this because a) it's 900 pages and my time is limited and b) I found out it's only part 1. But then I gave it a shot and have to say it lived up to the hype. Amazing writing and characterization, and it managed to be wildly original. Too many great things to say about it.

—David Sakmyster, writer
Lisa Mannetti's book "Deathwatch"- a masterpiece!

—Corrine De Winter, writer
I liked "Splice" a lot with Adrian Brody. I also think that the M. Night Shymalan elevator movie returned him to form. [Certainly better than the one with Ron Howard's daughter living at the bottom of Paul Giametti's swimming pool or the one with Mark Wahlberg where people just dropped dead like the blackbirds in Arkansas recently.] As a big admirer of "The Sixth Sense," I'm glad he's returning to form.

—Connie Corcoran Wilson, writer
In books: Mr. Shivers by Robert Jackson Bennett is beautifully written, and Black & Orange by Benjamin Kane Ethridge is intensely creative and remarkable. Frankenstein's Monster by Susan Heyboer O'Keefe is elegant and insightful, and Lisa Mannetti's Deathwatch is a pair of novellas that together can twist your head off.

—Gene Stewart, writer
"I thought the book "Sideshow" by William Ollie quite good, and Tony Richards
Raines Landing series, "Dark Rain" and "Night of Demons"."

—G. O. Clark, writer
I'm going to say, Let Me In for no other reason than it introduced me to the brilliant novel: Let the Right One In by John Ajvide Lindqvist. Such a refreshing, pulse-stopping dive into the vampire genre, it really cleaned up my waning interest in vampires. Thanks Twilight, you've done ruined me for Dracula.

—J. R. Parks, writer
I liked THE BLACK SWAN best of horrific films. It had some cliche characters and it was fairly predictable but it was so well made and so well directed and acted I found it quite powerful. Also setting something horrific in ballet–fairly fresh.

—John Shirley, writer
I enjoyed reading "The Passage" by Justin Cronin. I created the interior illustrations for this book from Cemetery Dance.

—Jill Bauman, dark artist
In movies, Paranormal Activity 2 was pretty good. In books, I enjoyed Desperate Souls, Draculas, Immun3, and a few others. To be quite honest, I've grown very jaded as a reader/movie goer, and it takes a lot to really 'wow' me. Right now, I'm reading Horns, and that's pretty damn good.

—J. G. Faherty, writer
The Castle of Los Angeles by Lisa Morton.

—Jean Graham, writer
I enjoyed the modernized Sherlock Holmes series which was filmed by BBC.

I am also a big fan of Lee Thomas. I read his collection of horror stories In the Closet, Under the Bed and thought it was magnificent. I also had a chance in 2010 to read an advance copy of Lee's novel, The German, a thriller which is set in a small Texas town, and thought it was terrific. It's coming out this spring and I also think it would make a brilliant movie in the manner of Silence of the Lambs. Another writer I think is marvelous is Tom Cardamone who has written a speculative fiction collection called Pumpkin Teeth, and right up the alley for the folks and friends of Gothic.net. I was an early fan of his when he was submitting his stuff to the Velvet Mafia ezine and elsewhere. He writes weirdly, edgy tales that are uniquely original. I've always told him that I wish I could crawl into his brain and take a few of them for my own.

—Jameson Currier, writer
I very much enjoyed Justin Cronin's "The Passage," and Stephen King's "Full Dark, No Stars."

—Harry Shannon, writer
The truth is that I read very slowly — and mostly nonfiction. I spent last year getting through books from 2009. Marie Rutkoski's The Celestial Globe was the most enjoyable 2010 novel I read last year. It's a YA horror, set in Elizabethan London.

I also don't get out to movies as much as I would like. In addition to a bunch of kids' movies, I saw Tim Burton's Alice and The Imaginarium of Dr. Parnassus, neither of which I'd consider horror.

—Loren Rhoads, writer
In film, my favorite straight horror film of the year was a Hong Kong slasher flick called DREAM HOME, although Tsui Hark's DETECTIVE DEE AND THE MYSTERY OF THE PHANTOM FLAME was my overall favorite film of the year. In books, I really enjoyed INVISIBLE FENCES by Norman Prentiss. DREAMS IN BLACK AND WHITE by John R. Little, END TIMES by Rio Youers, and Rocky Wood and Glenn Chadbourne's non-fiction illustrated book HORRORS!

—Lisa Morton, writer
Oh, that's a tough one. Film – I enjoyed The Wolfman, that's the one that stood out for me. Books – I loved The Passage by Justin Cronin; Full Dark, No Stars & Blockade Billy, both by Stephen King; The Whisperers by John Connolly – those are just a few.

—Marie O'Regan, writer
A TAINT IN THE BLOOD, by S. M. Stirling, a vampire-as-natural-species novel delightfully paying homage to Jack Williamson's DARKER THAN YOU THINK, but with the science updated. I haven't seen any 2010 horror movies yet (most movies I watch, when I watch any, are on home video, not in the theater, so I don't catch them when they're new), unless you count the first part of HARRY POTTER AND THE DEATHLY HALLOWS, which I thought did as good a job of rendering the book as we could have hoped for. I was enthralled with CORALINE, which I did see in the theater, but that came out in 2009, didn't it?

—Margaret L. Cartner, writer
I'm just finishing up Handling the Undead by John Ajvide Lindqvist. I love the fact that it's different, and handles the topic in a very human way. I'm getting really sick of gore for gore's sake. G says I'm becoming a zombie snob – so be it. But this book is good.

—Marcy Italiano, writer
I absolutely loved "Horns" by Joe Hill. Must read. That guy is an outstanding storyteller. Also, the movie "Martyrs". This one is closer to me since it has so many similarities to our movie, "Victim", yet moves thematically in a different direction. Interesting concept.

—Michael J. Hultquist, writer
I liked Piranha 3D, The Crazies. But I must confess that I love old cheeseball horror- Corman, William Castle, giant bug movies, just plain good/bad movies—from Herschell Gordon Lewis to bad 80's movies and Twilight Zones. They are just fun.

—M. F. Korn, writer
AMC's the Walking Dead is hands down the most notable release in 2010. Whether you are a fan or not there is no denying its main stream impact.

—Kevin David Anderson, writer
Loved Peter Straub's A Dark Matter.

—Lisa Mannetti, writer
I can't even name a horror release from 2010. I don't go to theaters. I wait for used DVDs to be sold on Amazon. I own over 1,000 horror films and TV episodes (on Beta, VHS, and DVD). I am the opposite of those people who camp outside theaters to be the first to see the latest Star Wars or Harry Potter. When I see an ad for a new horror film, I think, "Wow, that looks great. I'm really gonna enjoy seeing that film in a few years."

I prefer golden oldies. Every few years, I rewatch Fox TV's 1987 Werewolf series (on Beta), or 1970s Ghost Story/Circle of Fear (taped off of CBS Late Night in the 1980s). Last month I rewatched Dark Shadows's first season (on DVD).

Actually, since I run a horror film contest — the Tabloid Witch Awards — I see many films before they're released. Or never released. In 2008, I saw a beautifully shot "witch noir" film, 9 Lives of Mara. I have it on DVD, though it's never been released to the public. One of the advantages of running a horror film contest/festival.

—Thomas M. Sipos, writer
The dark atmosphere of "The Wolfman' was compelling with Anthony Hopkins and Emily Blunt playing, if not their best, pretty near it.

—Helen McCabe, writer
I'm not sure about "notable," but I particularly enjoyed The Passage (Justin Cronin's epic dark SF/ viral vampire thriller) and The Fuller Memorandum (Charles Stross's latest Lovecraftian spy novel). I also enjoyed Lovecraft Unbound (Ellen Datlow, ed.), but I think that might have been a 2009 release.

—Ann Schwader, writer
I think the DARK FAITH anthology (Apex) edited by Maurice Broaddus and Jerry Gordon stood out most for me in the year's dark fiction. (Disclosure: I have a poem in it, but I'd say so anyway. Go read Cat Valente's "Days of Flaming Motorcycles" or Jennifer Pelland's "Ghosts of New York" and see if you can resist gulping down the entire book.)

I'm probably the only one categorizing it as such, but I thought James Franco in 127 HOURS was probably the scariest horror film of the year. The situation and acting and stakes drew me in, as did the very real fear that he was going to sit there waiting to die alone, knowing it was coming. Reminded me of the terror I felt when I first read "The Cask of Amontillado" as a kid and really thought about what that ending meant.

—Lon Prater, writer
I enjoyed Inception and Black Swan though admittedly, I've not seen many other films this year and haven't read many books for pleasure outside of my day job.

—Sèphera Girón, writer
Hands-down, Laird Barron's short story collection "Occultation and Other Stories." Eerie, Lovecraftian cosmic horror that's anything but a tired retread of said subgenre. The guy's got an amazing way with words. Plus the eye patch is just too fucking cool.

—Sanford Allen, writer
Tooth and Nail by Craig di Louie was a great book. I certainly noted the glut of movie remakes; Halloween, Piranha, Freddie etc and also noted how terrible they were.

—Derek Gunn, writer
Unfortunately, only two films were particularly notable to me—and again, this has more to do with my general lack of interest in cinematic horror than it does any kind of real perspective–was the latest installment in the SAW franchise, and the Benicio Del Toro version of THE WOLFMAN. The former I found notable because it continues a certain public fascination with torture porn, something I find depressing and not at all interesting. The latter because I thought it was reasonably well done, and because it illustrates the enduring popularity of the character created by the late Curt Siodmak, whom I became acquainted with very early in my career. I think it's kinda cool to see the occasional resurgence of interest in the classic monster characters!

—Richard Dean Starr, writer
To be honest, I didn't read any new horror in 2010. And, though I watched a few, I didn't see any new horror movies in 2010 that stuck with me. The 2010 movie that I found most frightening (Darren Aronofsky's "Black Swan") is not generally considered horror. If a book or film gives me nightmares, then it meets my personal definition of great horror. The last book I read that did that was John Hersey's nonfiction book "Hiroshima." And the last movie I saw that meets that definition was "The Road," based on the novel by Cormac McCarthy.

—Nancy Etchemendy, writer
I really enjoyed PARANORMAL ACTIVITY, which I saw on DVD at home. Without any overt gore or violence, it creeped me out so much that I was actually afraid to turn out my lights and go to sleep! I also liked CLOVERFIELD, because in spite of the documentary approach, I thought it had a dreamlike quality. At the start of the Recession, I had a nightmare where I was in a city, with lots of other people, hiding from a Godzilla-like monster that was destroying everything, and it reminded me of that. A very atavistic kind of fear!

—E. F. Watkins, writer
I am years behind on books, and I rarely watch current movies anymore. My reading tends to be from the '40s, '50s and '60s. I used to keep track of what was going on in the market, but I found it just killed my inspiration.

The books that I read that were published this year were Lucky Luciano: The Real and the Fake Mobster, and Where Men Win Glory: The Odyssey of Pat Tillman, by Jon Krakauer (who wrote Into Thin Air). Both were excellent. The Luciano book, in particular, is much more reasonable than other books I've read on Luciano.

—Thomas S. Roche, writer
My 'to be watched' pile is nearly as big as my 'to be read' pile. Sadly, there's a whole pile of movies I haven't had a chance to watch yet, and when it comes to books, I've never been the guy that felt the need to run out and pick up the latest book. When I think about the books I'm currently reading, some of them are very old. Like, historic old.

—James Roy Daly, writer
Related Posts:

Posted by
Gothic.net
on Tuesday, February 15th, 2011. Filed under
Books
,
Dark TV
,
Headline
,
Horror
,
Movies
. You can follow any responses to this entry through the
RSS 2.0
. You can leave a response or trackback to this entry
Tags:
127 hours
,
a dark matter
,
alexandra sokoloff
,
alice henderson
,
amelia g
,
ann schwader
,
anthony izzo
,
bev vincent
,
black swan
,
carl alves
,
chad savage
,
corrine de winter
,
david sakmyster
,
deathwatch
,
del howison
,
derek gunn
,
dexter
,
e f watkins
,
elisabeth blue
,
full dark no stars
,
g o clark
,
gene stewart
,
harry shannon
,
helen mccabe
,
j g faherty
,
j r parks
,
james roy daly
,
jameson currier
,
jean graham
,
jill bauman
,
joe hill
,
john shirley
,
justin cronin
,
kevin david anderson
,
let me in
,
lisa mannetti
,
lisa morton
,
lon prater
,
loren rhoads
,
m f korn
,
marcy italiano
,
margaret l carter
,
marie oregan
,
matt kennedy
,
michael j hultquist
,
nancy etchemendy
,
panel of experts
,
paranormal activity
,
peter straub
,
richard dean starr
,
saw
,
sèphera girón
,
shade rupe
,
steven king
,
the crazies
,
the last exorcism
,
the passage
,
the wolfman
,
thomas m sipos
,
thomas s roche
,
timothy olyphant
,
walking dead