Gothic.net Party 18+, Art Show, BOOM! Studios Giveaways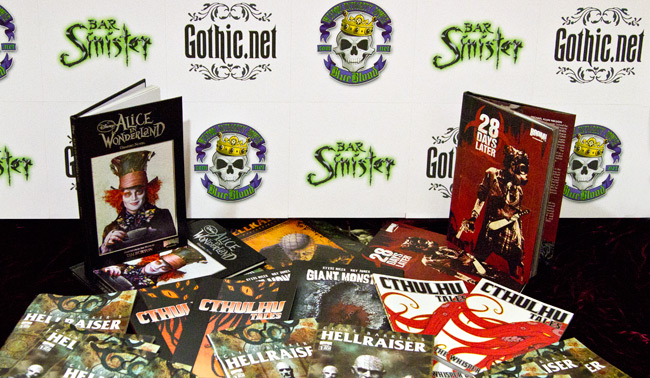 Nineteen hour countdown to the Gothic.net party tonight!
A few more kickass things:
The event is 18+ (not 21+), which means you only have to be eighteen-years-old to attend. One of the reasons for holding the party at this venue is that they are extra-cool about this.
Blue Blood's Forrest Black and Amelia G will be doing a digital gallery show. The artwork projected on the walls will be portraiture of many denizens of the dark and fabulous, some of whom will be in attendance.
BOOM! Studios has given us a ton of great books giveaways. There is stuff from a number of their darker lines, including the 28 Days Later series, the Cthulu Tales series, Disney's Alice in Wonderland, and . . . [drum roll please!] issue #1 of the new Clive Barker Hellraiser comic. That's right! Clive Barker is doing a new Hellraiser story in comic book form. There are multiple cover designs, one with art by Clive Barker, one with work by Tim Bradstreet, and one by Nick Percival. The Hellraiser comic books are not available in stores until Wednesday, but a couple dozen lucky Gothic.net VIPs are going to get a copy of issue number one at the Gothic.net party. Clive Barker + Hellraiser + issue #1 = a very cool collectible.
BOOM! Studios is launching a new ongoing HELLRAISER comic book series written by Clive Barker that will be released in comic stores everywhere on Wednesday March 23rd, 2011.

This is only the third time that Clive has "touched" the characters — the first with his novella "THE HELLBOUND HEART" and the second being the first HELLRAISER film. With the HELLRAISER ongoing comic series, Clive Barker returns to his signature creation.
Related Posts:

Posted by
Gothic.net
on Saturday, March 19th, 2011. Filed under
Books
,
Events
,
Headline
. You can follow any responses to this entry through the
RSS 2.0
. You can skip to the end and leave a response. Pinging is currently not allowed.
Tags:
28 days later
,
alice in wonderland
,
amelia g
,
boom studios
,
clive barker
,
cthulu tales
,
forrest black
,
hellraiser
,
nick percival
,
tim bradstreet