Panel of Experts: Readings and Signings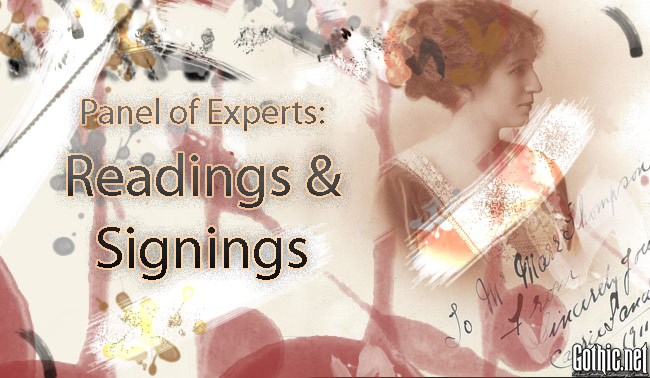 Question: Do you like doing readings and signings?
Interestingly, more than three quarters of us like or mostly like doing reading and/or signings. For some of us readings and signings are a crucial way of staying in touch with the people who read our work, an up-close-and-personal method for getting a sense of what the readers enjoy and what does not move them. We like being in front of an audience who cares about what we do.
When Gothic.net asked the Panel of Experts this question, the assumption was that signings and readings were similar, but many of us felt they are quite distinct, even if both involve personal appearance by authors to hopefully sell books. Some of us like to meet readers and enjoy signing, but hate to read aloud. Some of us enjoy sharing our words, but hate the promotional feel of signing. Some of us wish we could just concentrate on writing and a lot of us get stage fright, even if there is not much of a stage. The scared among us sometimes enjoy reading once we get going and some not-so-much.
For book readings, everyone always hopes there will be good attendance, so many writers are selective on which bookstores or clubs they will read for. A few of us are real road dogs who have read in bookstores across America. Some of us have read in unusual venues, ranging from onstage with a rockabilly band to in front of a cemetery association.
Love it. With A Christmas Dozen, I did 4 programs a day in fall/winter 2000. I read my touching Christmas stories and sold the book. At a senior center at 11 a.m. in one town, another senior center at 1 pm, at a retirement or assisted living community at 4 pm, at a church at 7 pm. Six or seven days a week. Sold thousands of book in a season. With the weird tales collections I did the same, but for Scout troops, church youth groups, cemetery associations, and libraries. Good sales.

—Steve Burt, writer
Deja vu… Ummm… Yes and no. I love hanging with fans and getting to chit-chat about stuff. I also love seeing new places, trying out local cuisines, and researching regional culture while I'm on the road. On the flip side, I hate being away from my family, and there is almost always the occasional fan who begs a restraining order.

—M. R. Sellars, writer
When I was younger and thought I might be some kind of big deal (hah!), I liked both. Now, not so much. Signings make my hand hurt and I stumble over words when I'm reading aloud, especially to crowds—mostly because I feel awkward. I'll sign if asked, because it seems rude not to, but I don't go out of my way to do it much anymore. I know that the first edition of KOLCHAK: THE NIGHT STALKER CHRONICLES has become modestly valuable on the secondary market, since it's out-of-print, and I see a number of those when I do sign. The same for HELLBOY: ODDER JOBS, which is popular enough to still be in print six years later. I suppose I'm what you'd call a rare signer. On the upside, I think that works out, since I doubt anyone's forming a line for my next appearance.

—Richard Dean Starr, writer
Immensely! The best part of writing is meeting someone who has stood in line so they can tell you that they enjoyed what you created. I've heard other writer complain about having to sit and talk to fans for hours on end, and I'll never understand that.

—Kevin David Anderson, writer
I have put them on but have only done a few myself so far. They're okay so far. I am not into crazy people and it's a great way to come in contact with crazy people.

—Shade Rupe, writer
I do. In addition to making me feel like a minor celebrity, which is pretty silly, it puts me in touch with potential readers. I get to hear what they like and don't like. Not that I make big changes in what I'm writing based on that, but it gives me a more realistic sense of my "market" than some gossip about the New York publishing scene.

—E. F. Watkins, writer
I love doing readings. Signings are weird for me. I can only explain it by saying that I'm just really bad at pimping. I'm good at showing off (reading) but not so good at pimping (signing.)

—Elizabeth Blue, writer
I really enjoy getting the chance to interact with people who've read my work. Signings are always fun, and there's enough performer in me to enjoy reading to an audience. I've gotten better at it over the years.

—Bev Vincent, writer
I do. If only to meet weird people. What I think I enjoy most are book signings as fundraisers. I've done several of these, for Haiti, for failing local libraries, and for a local family who lost everything in a house fire. I write genre fiction, so I don't have delusions of grandeur that my writing will change the world. Not that it can't, mind you. I just think that if I can give something back by selling books, then my work is, in some small part, helping make a difference in people's lives.

—D. L. Snell, writer
I've done a launch party for each of the three anthologies I've edited, which has included readings by the contributors and signings by all of us. I've enjoyed these immensely, but they've worked because having a lot of readers ensured a good turnout. I've also done a very few poetry readings, which have involved reading mostly to other poets. In general, I try to pick my opportunities carefully, because, if you're not a big name, it's easy to get discouraged by poor attendance.

—Karen A. Romanko, writer
I really enjoy getting the chance to interact with people who've read my work. Signings are always fun, and there's enough performer in me to enjoy reading to an audience. I've gotten better at it over the years.

—Bev Vincent, writer
Yes, I do. It is a fantastic feeling to get instant reaction from an audience.

—Derek Gunn, writer
I like doing signings at conventions and bookstores that have established bookclubs.

—Alexandra Sokoloff, writer
I love doing readings, provided it's in an entertainment atmosphere.

I would love doing bookstore signings where people actually bought my book and asked me to sign it, but that's not generally what happens, so I've found it a waste of time. I make an exception for my favorite bookstore, Borderlands Books in San Francisco, where the staff has a crew of rabid followers who trust their taste. Other bookstores with passionate readers on the staff provide you an important opportunity to meet passionate readers, which is important. But you've got to make the commitment to really schmooze them — and not in a lame, "Here, let me promote myself to you" way.

—Thomas S. Roche, writer
As an actor I love to read but do not enjoy most readings as I feel most authors don't read aloud very well

—Del Howison, writer
I love doing readings and signings- and recently did one at a rockabilly show. I literally was on the stage reading as the opener broke down and the headlining band set up. Terrifying yet fulfilling. I managed to move a few books to boot!

—P. S. Gifford, writer
Oddly enough, I love public speaking, but public reading makes me feel all super shy. I've only done readings of my work for two editors ever. My story The Blowfish is one of the only science fiction pieces ever to be included in Best American Erotica and Susie Bright was really a role model for me. So when Susie Bright asked me to read at this huge event she did at the 200+ person San Francisco rock venue Slim's, that was my first ever public reading. I felt super shy, but I just didn't feel like I could say no on that one and live with myself. The only other time was for Clint Catalyst at both the West Hollywood and OC Book Soup for the Pills, Chills, Thrills, and Heartache book he and Michelle Tea edited.

—Amelia G, writer
Yes. I love reading my work to people and autographing for them too! I write to entertain so the more I can interact with my fans, the more fun it all is!

—Sèphera Girón, writer
I like doing signings but I hate reading my work aloud. I don't feel reading it ever does justice to the work. I think I'm a fairly good reader, though. And with other people's work, I prefer reading it myself than to hearing them read it.

—Nancy Kilpatrick, writer
Yes

—Angeline Hawkes, writer
I don't do them often, but so far I've enjoyed them.

—Ann Schwader, writer
I've only done a few signings, both times meeting some interesting characters. One woman kept hinting that I should give her a book. Another time, a guy we referred to as "coffee man" drank almost all the complementary coffee the bookstore had put out. He just kept coming back for more. Never bought a book, though.

— Anthony Izzo, writer
Yes

—Bob Johnson, writer
I like both.

—Connie Corcoran Wilson, writer
Yes!

—Corrine De Winter, writer
Signings yes, readings – not really.

—David Sakmyster, writer
Usually, after the initial terror subsides.

—G. O. Clark, writer
Absolutely! I love meeting with readers and talking to them about their impressions of my work. I find it all very exciting.

—Gabrielle Faust, writer
As I said, it's good to meet others who like one's work.

—Gene Stewart, writer
I sure do. I hope to do them more often in 2012, once I get off my lazy ass and set up some appearance.

—Greg Stolze, writer
I do both and I went a countrywide tour with Piper. Exhausting, but worth it.

—Helen McCabe, writer
Not really. But I enjoy hanging out with other writers.

—James Roy Daly, writer
I would prefer to remove myself from all of the marketing and selling and just concentrate on the writing, but I understand the necessity of going before the public.

—Jameson Currier, writer
When I'm asked, sure.

—Jean Graham, writer
Yes. Though no matter how many times I do it, I still get nervous.

—Jeanne C. Stein, writer
Love it. Miss it.

—Jemiah Jefferson, writer
I hate to read in public, but I do them on occasion. Signings are fun because you get to meet the fans and give them insight into the writing life.

—J. G. Faherty, writer
I do signings at conventions. Sometimes I participate in poetry readings.

—Jill Bauman, dark artist
yes

—John Shirley, writer
Readings are fantastic. I get to be as silly as I want with character voices and signings let me practice my penmanship.

—J. R. Parks, writer
Very much so with the readings. But I hardly rate the signing part of the equation. Maybe I'll feel differently when one of my novels sells….

—Lon Prater, writer
I love doing readings. I love to hear the audience laugh in the right places. Better still is when I can see that my words have touched people, or made them think. I love to get that immediate feedback on my work.

—Loren Rhoads, writer
Yes.

—Lisa Mannetti, writer
Yes and no – theoretically, I like them. But they're only enjoyable when they're well attended, and that doesn't happen enough.

—Lisa Morton, writer
I like meeting readers, but I honestly don't like doing readings. I have to work on that area, as I'm a bit intimidated by such large social settings. I haven't done a ton of signings yet, but they are fun, and I prefer them to readings, as it's a nice chance to just talk to a reader or potential reader.

—Louise Bohmer, writer
I'm really Dyslexic, and reading aloud is very difficult for me. I usually get a headache afterwards, too. I'd rather chat openly about my stories and about writing, but I don't get away with it for long. Signings I like, meeting new people is always cool, especially if they're buying my stuff!

—Marcy Italiano, writer
I like doing group readings and signings with other authors, although the chance to do so doesn't come my way very often (mainly because I don't like traveling, so it has to be close to home or at a convention where I plan to be anyway).

—Margaret L. Carter, writer
Reading, yes. Signings – not so much.

—Marge Simon, writer
I do, yes. The first reading I did was one Paul tricked me into; he announced me as being next when I hadn't decided I was going to do it – I'm very glad he did, because I didn't have a chance to get too nervous. Now I love it; and signings as well. As I said earlier, it's nice to meet the people who have hopefully enjoyed your work, or at least liked the look of it enough to pick it up and buy it. Without the readers, we'd be nowhere.

—Marie O'Regan, writer
Haven't had the pleasure

—Mark Onspaugh, writer
Love it.

—Matt Kennedy, writer
They are okay. Promote Pomote Promote.

—M. F. Korn, writer
In general, yes, but it can be disheartening when no one shows up. I did a reading last year and the only person in the audience was my girlfriend. Luckily, she likes to listen to me read.

—Michael Bracken, writer
I've never done one. I think a signing could be fun.

—Michael J. Hultquist, writer
No

—Mick Sims, writer
Very much so! It's especially gratifying to know you're not doing this in a void, that there are people out there who enjoy reading your work. It makes it that much harder to chuck it all during those times you're tempted to give up.

—Nicholas Kaufmann, writer
Readings are always fun, especially when I can give people the chills or make them cry. Signings are best when you're with other authors, because then it's always a party.

—Owl Goingback, writer
Absolutely, as mentioned before I love doing signings – I've just started a tour for the new Arrowhead book, Arrowland, and have been enjoying meeting people who like the Hood books, and getting new people interested in them. I have to admit, I do get nervous before readings – like the one I did for the SFX Weekender last year – but practise the piece a lot beforehand which usually gives me that extra bit of confidence. I've been told by listeners that my reading voice is quite pleasant, so that also helps.

—Paul Kane, writer
Yes and no. I love meeting new people and those who like my work and hearing their thoughts, but I get horrible stage fright at big reading events (if you look closely, my hands holding the book or paper will shake like a leaf, despite the illusion of composure). I dislike worrying if anyone will come. They always do…but still. I worry.

—Rain Graves, writer
I LOVE to read my own work. That's a lot of fun. But signings? Not so much. I feel like a live point-of-purchase display. People stare.

—Rick Reed, writer
Sure.

—Ryan M. Williams, writer
You bet. I love to perform. Readings are a blast.

—Sanford Allen, writer
I do enjoy doing readings, whenever I can blackmail a few poor unfortunates to come and sit through the thing. I used to enjoy signings a lot more than I do now. They can be very good or very bad, but since my name is beyond obscure outside the genre, I rarely have people beating down the doors at store signings. Those can be very tedious, even when I do move some books. At the best of times, I'd rather be out on the trail signing my name on a geocache log.

—Stephen Mark Rainey, writer
Yes. Interacting with people and getting their reactions is great. I'd love to do more of them.

—Steve E. Wedel, writer
Yes, generally, although I'm not a natural – I've had to train myself to be calm. I do a lot more signings than readings, except at conventions.

—W. D. Gagliani, writer
Illustration based on a photo of Carrie Lanceley, soprano, 1911 by photographer, Swaine, London
Related Posts:

Posted by
Gothic.net
on Saturday, May 19th, 2012. Filed under
Books
,
Events
,
Headline
,
Horror
,
Professional
. You can follow any responses to this entry through the
RSS 2.0
. You can skip to the end and leave a response. Pinging is currently not allowed.
Tags:
alexandra sokoloff
,
amelia g
,
angeline hawkes
,
ann schwader
,
anthony izzo
,
bev vincent
,
bob johnson
,
connie corcoran wilson
,
corrine de winter
,
d l snell
,
david sakmyster
,
del howison
,
derek gunn
,
e f watkins
,
elizabeth blue
,
forrest black
,
g o clark
,
gabrielle faust
,
gene stewart
,
greg stolze
,
helen mccabe
,
j g faherty
,
j r parks
,
james roy daly
,
jameson currier
,
jean graham
,
jeanne c stein
,
jemiah jefferson
,
jill bauman
,
john shirley
,
karen a romanko
,
kevin david anderson
,
lisa mannetti
,
lisa morton
,
lon prater
,
loren rhoads
,
louise bohmer
,
m f korn
,
m r sellars
,
marcy italiano
,
margaret l carter
,
marge simon
,
marie oregan
,
mark onspaugh
,
matt kennedy
,
michael bracken
,
michael j hultquist
,
mick sims
,
nancy kilpatrick
,
nicholas kaufmann
,
owl goingback
,
p s gifford
,
paul kane
,
rain graves
,
richard dean starr
,
rick reed
,
ryan m williams
,
sanford allen
,
sèphera girón
,
shade rupe
,
stephen mark rainey
,
steve burt
,
steve e wedel
,
thomas s roche
,
w d gagliani