Dead Man's Hand
Black aces and eights. Wild Bill Hickok was in the middle of a hand of poker when he was shot at Nuttal & Mann's Saloon No. 10 in Deadwood, in the Black Hills, Dakota Territory. Wild Bill Hickok was a larger-than-life legendary gunman, sometime outlaw, sometime lawman, sometime show shooter, and regular professional gambler. There is remarkably heated debate among historians over what Wild Bill Hickock's fifth card was or if he even perhaps had discarded it and had yet to draw a new one when he was gunned down. Still important enough to gamblers to be inducted into Jack Binion's Poker Hall of Fame a hundred years after his death, James Butler Hickok's final cards — ace of clubs, ace of spades, eight of clubs, eight of spades — have passed into the vernacular as a "dead man's hand".
So when renown anthologist and general mystery expert, Otto Penzler, called the first anthology of poker mystery stories Dead Man's Hand, that was a very clever and appropriate title. With the exception of Sue DeNymme (get it, pseudonym?), the table of contents for Dead Man's Hand: Crime Fiction at the Poker Table reads like a who's who of mystery writing. As mystery writer Sue DeNymme generally seems to only show up in Otto Penzler anthologies, she is suspected of being the great man.
To the extent that anthologies are great ways to discover new writers, Dead Man's Hand delivers. (Read Panel of Experts: Novels vs. Anthologies for good ideas on how to approach anthology reading.) If you are intrigued by Detective Harry Bosch in Michael Connelly's One Dollar Jackpot, you will probably enjoy all the Harry Bosch novels by Michael Connelly. You will be pleased to discover there are a lot of them. If, for some strange reason, you, like many readers, enjoy Joyce Carol Oates' portrait of a cranky teen on the cusp of coming of age, then you'll probably want to run out and buy Fox Fire or one of the many other novel-length works where Joyce Carol Oates riffs on this subject.
Rupert Holmes was one of the few authors not previously read by this reviewer, but he is definitely on the Read More List after his deliciously noir story about a television exec finding out he is the mark at the table. (The adage is, if you've been playing poker for a half hour and you still don't know who the mark is at the table, it's you.) Initially, I assumed that Rupert Holmes is probably not an uncommon name, but it turns out that noir fiction writer Rupert Holmes is the same Rupert Holmes who wrote and sang Escape – The Piña Colada Song. Upon consideration, double-crossing your woman by responding to a personal ad, which turns out to be placed by her double-crossing you first, is kind of noir actually.
The other story in Dead Man's Hand which is set in Hollywood Tinseltown is by best-selling author Jeffery Deaver. Jeffery Deaver's story Bump is one of the more frustrating pieces in Dead Man's Hand. Bump features an aging actor eager to gamble with his own money in a live broadcast poker reality show and a low-end heist assistant with his eyes on the pot from the poker game on said live reality show. Bump is an incredibly readable story, as Jeffery Deaver always writes with excellent flow. Jeffery Deaver is known for putting great unexpected twists in his novels, where this is very enjoyable. The constant unexpected contrasts in the short story get tiresome-bordering-on-prejudiced — the rapper is well-spoken, the female comedian went to Harvard, the Hollywood actor guy has a good marriage, etc., all with a focus on how unexpected these things are. The most frustrating aspect of Bump, however, is that Jeffery Deaver is apparently not a poker player. He has the TV show inexplicably fly a card dealer in to Vegas from Atlantic City, with no explanation for why a TV exec would do this. Worse, he actually gets details of the poker game wrong. He is almost certainly not a biker or the wife of a Hollywood actor either, but presumably he did research on the subjects. It would have been so easy for him to just mosey over to a good poker education site and learn the essentials.
Otto Penzler says in his introduction that he was surprised when he realized that nobody had done a poker-themed mystery collection like this before. Dead Man's Hand is a great start and I hope Otto Penzler is planning sequel anthologies.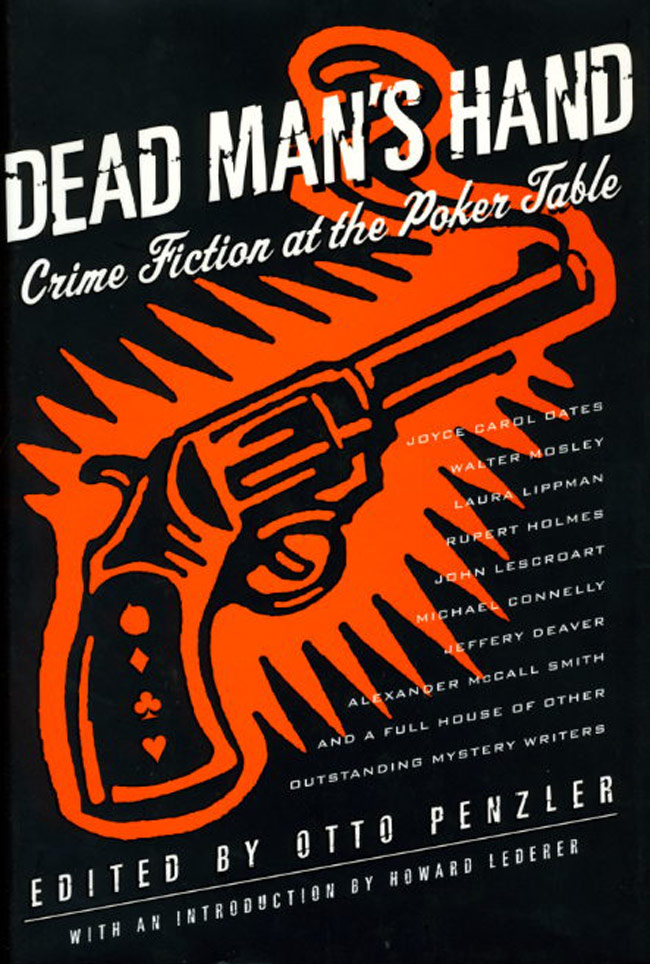 Dead Man's Hand
Edited by Otto Penzler & Introduction by Howard Lederer

A royal flush of brand new poker tales from fifteen of the world's best crime-writers, including a Harry Bosch novella from Michael Connelly.

With contributions from Alexander McCall Smith, Walter Mosley, Joyce Carol Oates, Jeffrey Deaver and Peter Robinson, this is the best hand of crime short stories you will ever be dealt. Taking their inspiration from the card game that's more a way of life than an innocent pastime, there are no stories here that you'll want to sit out. Here are tales of games you'll wish you were part of and games that you'd go to the ends of the Earth to avoid being dealt into.

Otto Penzler – Foreword
Howard Lederer – Introduction
Walter Mosley – Mister In-Between
Jeffrey Deaver – Bump
Alexander McCall Smith – In the Eyes of Children
Michael Connelly – One Dollar Jackpot
Joyce Carol Oates – Strip Poker
Sam Hill – The Stake
Christopher Coake – Pitch Black
Parnell Hall – Deal Me In
Sue DeNymme – Poker and Shooter
Rupert Holmes – The Monks of the Abby Victoria
Peter Robinson – The Eastvale Ladies' Poker Circle
Eric Van Lustbader – The Uncertainty Principle
Laura Lippman – Hardly Knew Her
John Lescroart – A Friendly Little Game
Lorenzo Carcaterra – Missing the Morning Bus

Howard Lederer is a professional poker player. Known as 'The Professor' for his cool demeanor and analytical play, he holds two World Poker Tour titles and two World Series of Poker bracelets. He lives in Las Vegas.

Otto Penzler is the founder of New York City's Mysterious Bookshop and the Mysterious Press. He was the publisher of The Armchair Detective, the Edgar-winning quarterly journal, for seventeen years. The Mystery Writers of America gave him the prestigious Ellery Queen Award at the 1994 Edgars for his exceptional contributions to the publishing field. He was also honoured with a Raven in 2003. He is the editor of the annual Best American Mystery Stories, and compiled Pulp Fiction: The Crimefighters and Pulp Fiction: The Villains.
Escape – The Piña Colada Song lyrics

I was tired of my lady
We'd been together too long
Like a worn-out recording, of a favorite song
So while she lay there sleeping
I read the paper in bed
And in the personals column
There was this letter I read

If you like Pina Coladas
And getting caught in the rain
If you're not into yoga
If you have half a brain
If you like making love at midnight
In the dunes of the cape
I'm the lady you've looked for
Write to me
And escape

I didn't think about my lady
I know that sounds kind of mean
But me and my old lady
Had fallen into the same old dull routine
So I wrote to the paper
Took out a personal ad
And though I'm nobody's poet
I thought it wasn't half-bad

Yes, I like Pina Coladas
And getting caught in the rain
I'm not much into health food
I am into champagne
I've got to meet you by tomorrow noon
And cut through all this red tape
At a bar called O'Malley's
Where we'll plan our escape

So I waited with high hopes
Then she walked in the place
I knew her smile in an instant
I knew the curve of her face
It was my own lovely lady

And she said, Oh, it's you
And we laughed for a moment
And I said, I never knew

That you liked Pina Coladas
And getting caught in the rain
And the feel of the ocean
And the taste of champagne
If you like making love at midnight
In the dunes of the cape
You're the love that I've looked for
Come with me
And escape
Related Posts:

Posted by
Gothic.net
on Monday, July 30th, 2012. Filed under
Books
,
Headline
,
Professional
. You can follow any responses to this entry through the
RSS 2.0
. You can skip to the end and leave a response. Pinging is currently not allowed.
Tags:
anthology
,
dead mans hand
,
jeffery deaver
,
joyce carol oates
,
michael connelly
,
noir
,
otto penzler
,
rupert holmes