Gothic Beauty Magazine Issue #52: A Feast Of Gothic Artistry
The arrival of issue #52 of Gothic Beauty Magazine is as sweet as a kiss from our favorite vampire, and it is ready to charm our hearts and minds from the first enticing look at the beauty of Acid Doll gracing the cover while wearing one of the stunning designs by Lena's Wulgaria, who gives an in-depth look at her work and dark fairy-tale couture style through an interview in this gothic journey.
This issue comes like a ray of caressing moonlight that parts the veil of darkness with its sterling topics and interviews with talented artists, designers, and gothic personalities like Aurelio Voltaire, who introduces his new album The Black Labyrinth, made as a musical tribute to David Bowie. The beautiful Minnie Opal presents a unique and heartwarming project with Sundari Franklin that serves as a homage to a loving and loved departed soul. Henry Zebrowski from The Last Podcast on The Left participates on an intriguing little chat about the paranormal; and Micheline Pitt and Lynh Haaga also introduce us to their fantastic designs through a dark and playful collection based on the aesthetic of Beetlejuice.
There are many tasteful escapades that Gothic Beauty Magazine issue #52 takes us through as it guides us into the furthest depths of gothic culture, and it continues the adventure with an engaging history lesson about battle vests, their versatility and established fame in both the gothic and punk scene; as well as a myriad of reviews for us to indulge in some masterfully created books, albums and music videos, like Sam Smith's Unholy video featuring Kim Petras; Miss FD's Summoning; and IC3PEAK'S Kiss Of Death. For books, the reviews focus on texts of macabre, fashion and memoirs with reviews of Drumming With Dead Can Dance & Parallel Adventures: A Memoir by Peter Ulrich, and Gothic Fashion The History: From Barbarians To Haute Couture by Katie Godman, among other nice little page turners; and as for music albums, the selection focuses on classic goth bands Clan of Xymox and their album Limbo; Siouxsie and The Banshees and their collection of iconic songs called All Souls; as well as The Birthday Massacre's Fascination album, which are just a few of the melodic gems we can find here that help enrich our musical libraries.
Fashion has a strong focus through this issue of Gothic Beauty Magazine, which is why the coverage of the MAGIC Fashion Trade Show is so welcome and appreciated, especially with the thorough look at the designs that made an appearance at the event, making it even sweeter when this issue also suggests and introduces a series of accessories and makeup palettes to add a bit more style to every personal gothic endeavor, as well as a detailed look at some creative cake toppers to add an unforgettable flair to the perfect gothic wedding.
Issue #52 of Gothic Beauty Magazine is a spectacular celebration of goth that even serves as a tempting portal both for those who are taking their first steps in their gothic journey, and for seasoned children of the night alike, and it does it smoothly through every line and glamorous image that makes this a true work of art in Gothic Beauty, and it even comes with one extra treat for those who can't wait to feel the warm embrace of this gothic experience, since, for a limited time, fans can get a free digital copy of the magazine through Zinetastic, using secret code gb52love as well as place an order through this same distributor to get the coveted Gothic Beauty print edition to add to their collection.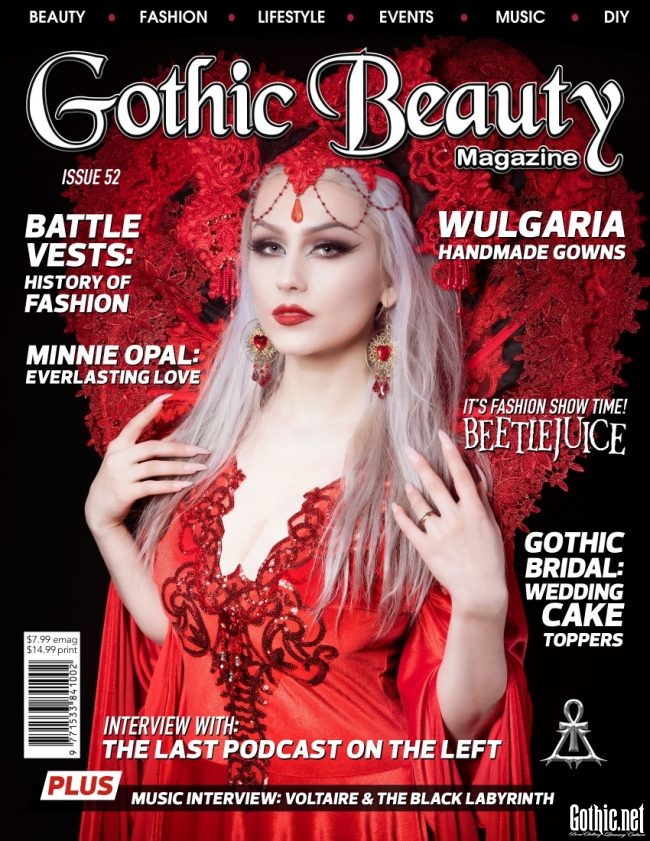 Related Posts:
Posted by
Ingram Draco
on Tuesday, February 28th, 2023. Filed under
Headline
,
Releases
,
Zines
. You can follow any responses to this entry through the
RSS 2.0
. Both comments and pings are currently closed.
Tags:
books
,
couture
,
culture
,
fashion
,
goth
,
gothic
,
Gothic Beauty
,
gothic fashion
,
interviews
,
issue #52
,
lifestyle
,
models
,
music
,
music videos
,
zinetastic