Gothic Beauty Magazine #53: A Velvety Blend Of Gothic Flavors
Gothic Beauty Magazine, issue #53 offers sweet warmth, like that first taste of fine wine on the lips, with the appearance of the gorgeous Twiggy on the cover, posing in a delicious style while wearing the amazing LashyDoodle Gothic Double Drama Kit eyelashes. I'm looking at the digital edition right now, but it also comes in a Gothic Beauty Magazine print subscription.
A drop of personal artistry becomes an abundant pour of self-expression through the engaging artefacts that this issue features to help add a playful touch to our lives with stylish phone cases, aprons and lip stains, a gothic bag, rings, a soap bar shaped like a tombstone and even dog chew toys with a gothic twist, because our fluffy companions also deserve an exceptional treat, and on the subject of beloved pets, Issue #53 shares a closer look at Hyde Park Pet Cemetery in London, a moving look at the farewells to people's beloved companions and all that comes with it in a unique tour through history.
This full-bodied issue of Gothic Beauty Magazine also surprises with zesty interviews with Kassandra Love and her Katakomb fashion brand, inspired by a fabulous Southern Gothic Style. A conversation with the creators of the superb Nyctophilia store, and a tasteful interaction with Ben V where he shares more about the incredible art of his industrial gothic metal band Ludovico Technique.
In a sweet sip with strong hints of stimulation for the mind, this edition takes us to unexpected places with book reviews of The Art of Darkness The History of Goth by John Robb, Rock'N'Roll Witch by Pleasant Gehman which includes lots of gripping personal anecdotes and experiences; Stoupakis: Genesis, an art book by David Stoupakis where the artist's mind and the artwork itself come together in mesmerizing harmony, and The Ruin Of All Witches: Life And Death In The New World by Witchcraft historian Malcolm Gaskill which details the disquieting story of Hugh and Mary Parsons in Springfield.
The world of fashion and beauty swirls with a wonderful coverage of the first edition of the Alt Trade Show, which has the noble purpose of reviving the trade shows where alternative clothing brands can mingle and meet shops to work together with.
LashyDoodle, and their amazing new Lookbook make a splash with lots of styles of lashes and gorgeous models wearing them; and in a stunning exploration of romance, the tale of the creative and heartwarming proposal of Marc Fuerst to his gothic love Hilary Branner is the perfect cocktail of hope and celebration.
For music, the delicate notes of Gothic Beauty feature reviews of Killing Joke's MMXII album, Depeche Mode's Memento Mori, Miss FD's As Above So Below EP, The new album Death of Darkness by The 69 Eyes, Just Like Heaven, a work of art where various artists collaborate in a tribute to The Cure; and many more musical suggestions, all with a great coverage of what the albums contain, the genres they explore, and why they are the perfect melodies that enrich our libraries.
There are also visual treats to pair with the spectacular sounds as well, with an in depth look at Omnimar's The Matrix music video, which presents a futuristic aesthetic as an homage to the titular movie. Baby Storme's This City Is A Graveyard, where she dances among the tombstones while singing of joys forsaken, and Blackbriar's My Soul's Demise, which tells an inspiring visual story that warrants more than one watch to absorb all the greatness contained within.
La dernière goutte of deliciousness from issue #53 comes for us to savor in a flavorful coverage of the Wave-Gotik-Treffen festival, complete with plenty of amazing photographs of the styles people have worn to the event in a nice little treat of all the possible fashion avenues to explore, which presents a rich finish to this fantastic edition of Gothic Beauty Magazine.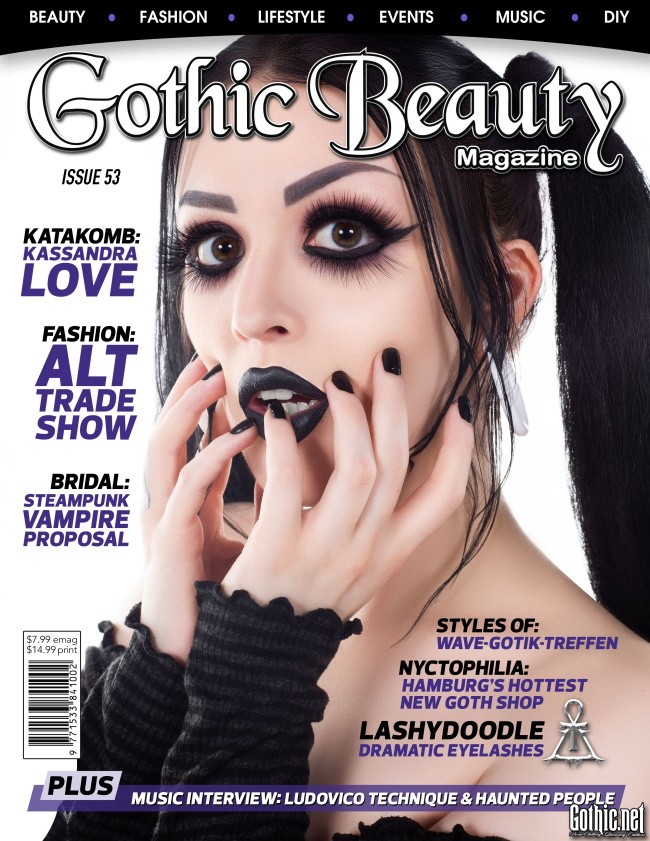 Related Posts:
Posted by
Ingram Draco
on Friday, September 29th, 2023. Filed under
Headline
,
Releases
,
Zines
. You can follow any responses to this entry through the
RSS 2.0
. Both comments and pings are currently closed.
Tags:
books
,
couture
,
culture
,
fashion
,
goth
,
gothic
,
Gothic Beauty
,
gothic fashion
,
interviews
,
issue #53
,
lifestyle
,
models
,
music
,
music videos
,
zinetastic