Face Off Total Transformation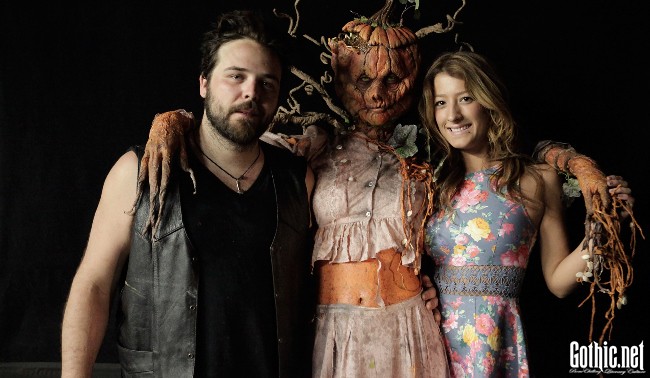 It's time for Face Off's "whimsical challenge" week, when the contestants try desperately to figure out what the judges think whimsical means. Plus, a double elimination.
Starting out, Lyma has a good attitude about being a bottom look last week, vowing to learn from the judges' criticisms. This is the usual Face Off foreshadowing, but does it mean Lyma will excel this week, or totally fail to learn from her mistakes and get eliminated?
The foundation challenge this week involves the movie Insidious and the upcoming sequel. I've talked to a lot of horror fans who are cautiously optimistic about this sequel, because the original had a lot of promise that was derailed in the final 30 minutes. Everyone has to design their own
Insidious inspired genderswap demon. These short make-up challenges really play to the strengths of the contestants with a haunted house background, but Roy wins this one (and a trip to the Insidious 2 red carpet premier) with an eyeless demon accomplished by covering a gray mottled face with a clear female mask. Every once in a while someone on Face Off creates something that is unsettling to look at even in the bland studio lights, and Roy nailed it here.
Let's mention here the grand prize everyone is working toward. a trip from Kryolan (a make-up company), a 2013 Fiat 500, and $100,000. Now $100 large is nothing to sneeze at, and the trip is whatever. But seriously, a Fiat 500? Can we not get a sponsor to offer up a slightly more impressive ride?
Anyway, the main challenge this week is a non-sponsored nursery rhyme theme, specifically Mother Goose. Alana cheerily chimes in, "I love Mother Goose!" and I'm pretty sure the producers fed her that line because honestly, does anyone love Mother Goose?
Everyone divides into teams of two and picks nursery rhymes to create their whimsical designs out of. I'm not a fan of the whimsical themes on Face Off. Choosing a make-up that's better than another make-up is hugely subjective as it is, but adding this element that's almost impossible to define (go ahead, explain to me what whimsical means in less than 30 words) makes the outcome almost random.
This week was a great example. The winning make-up was Tate and Miranda's pumpkin woman, based on Peter Pumpkin Eater. It was by far the best effort – that thing was incredible, so detailed and brilliantly painted. Yet I didn't get any sense of whimsy there. When Michael Westmore told them it was too scary, I yelled, "Nooooooo," at my TV. Not that it was bad advice, given the challenge, but bloody hell I never want to hear, "Make it less scary," on Face Off. Note that Miranda and Tate are super bad-ass rockers.
Meanwhile, Roy and RJ, a dream team if ever there was one, made this great Cat in the Fiddle by making a cat literally fused to a fiddle. RJ is trading a bit here on his success with the legendary bellhop and Rayce Bird's cellist, but they still created a fantastic, cartoonish, silly yet awesome cat that can, in RJ's words, get away with playing with himself on stage. The result? Middle of the pack. Of course.
Alana and Laney were the most entertaining pair this week, as they developed a saucy porcine matron in a meat dress. This generated one of the all-time greatest Alana one-liners, "I'm bacon care of business." I am so ridiculously happy that Alana's back. And their pig queen was crazy. Really weird, kind of cute, especially when the model threw in a little butt wiggle. I don't know if I'd have called it a top look, but it was…unique. And once again Laney proves to be the best of the newbies, and seems to have bonded with Alana over the last two weeks.
I wasn't sure about Adolpho and Lyma's Lady Gaga Humpty Dumpty. Their mold drama implied disaster, but that scrambled egg runway model turned out really well. I don't know how you make a woman draped in egg shells look elegant, but they totally did. How tall was that model anyway? I know she was wearing platform boots, but was towering over Adolpho. Top look? Sure.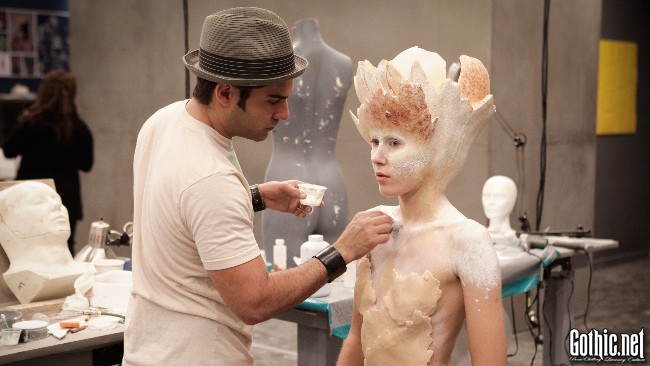 Frank and Laura made an equally unlikely creature with their retelling of Miss Muffet from the spider's point of view. He appeared on stage clutching a rose in his mandibles, and though I'm not sure he evoked the "sense of longing" Laura described, it was cute in a way I'd never expect a human-spider hybrid to be. But here the arbitrariness of "whimsy" rears its head. Glen complained that the paint scheme made it look like a stuffed animal. Well, doesn't that make it more whimsical? Somehow this was a bottom look, which is nonsense.
The other middle look was Scott and Eddie's take on the Man in the Moon. I love their idea, playing on the U.S. space program to modernize it, and turning it into a woman made out of moon. They made her into a moongirl pin-up and almost executed the idea perfectly. The swept hair made of moon rock gave her a jaunty look, but as Neville said, her skin didn't look like moon. I'll give them a lot of credit for creating a design with a very expressive face.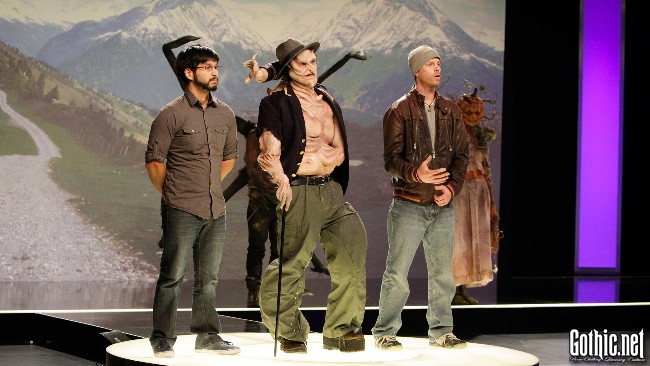 Who went home? Eric Z and Rick. It's hard to argue with this decision, even casting aside the whole whimsy debate. I liked their idea, but the paint was flat and dull and the face was too static. And as Glen observed, the twisted arm just looked like an extra arm. But note that a lot of Ve's complaints this week included really specific ideas about how they should have done it, which really comes down to, "How Ve would have done it." Which isn't the spirit of this competition. But it's true, the Crooked Man just didn't compare well to the other make-ups this week.
Related Posts: