The Warmth In The Heart Of Vampires – Gothic Makeup Tutorial
This Gothic makeup style that ReeRee Phillips has prepared for us focuses mainly on adorning the eyes, which allow for more experimentation with color, and the way she does it maintains a concise idea of glamour present in the look, with the end result also carrying with it a delicious expression of confidence, which is why, when I see it, I can't help but think about vampires.
This is a fabulous concept to play with, because while vampires are conceived as generally cold creatures, the style that ReeRee Phillips shows us, even if it is centered on the idea of wearing this makeup during a chilly winter, is not directly related to the cold with the hues it uses. Quite the opposite, in fact, as the overall look centers around warm tones that are refined and cozy, putting together all the elements needed to present a captivating Gothic design of a supernatural charming nature.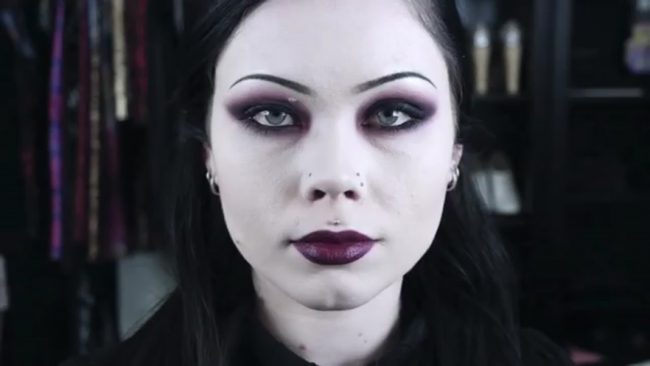 | SUBSCRIBE!! | FOLLOW ME ON INSTAGRAM @reereephillips
Support My Videos http://www.patreon.com/ReeRee
AND IM SOMETIMES ON TWITTER @reeree_beauty
__

MUSIC

"The Sprite's Playground" by TeknoAXE
is licensed under a Creative Commons Attribution 3.0 Unported License.

__

PRODUCTS USED

– Too Faced Shadow Insurance
– Sleek iDivine 'Celestial' Eyeshadow palette
– Concrete Minerals Loose pigment eyeshadow in 'Blood and Guts'
– Inglot eyeshadow in #377
– MAC Eyeshadow in 'Carbon'
– MAC Fluidline in 'Blacktrack'
– NYX Jumbo Eye Pencil in 'Black Bean'
– MAC False Lash Extreme Mascara
– OCC Liptar in 'Black Dahlia'

__

** ALL PRODUCTS AND OPINIONS IN THIS VIDEO ARE MY OWN. EVERYTHING HAS BEEN PURCHASED WITH MY OWN MONEY AND I AM NOT SPONSORED OR AFFILIATED WITH ANY COMPANIES **
Related Posts:
Posted by
Ingram Draco
on Thursday, November 4th, 2021. Filed under
Headline
,
Lifestyle
. You can follow any responses to this entry through the
RSS 2.0
. You can skip to the end and leave a response. Pinging is currently not allowed.
Tags:
dark
,
eyes
,
goth
,
gothic
,
heart
,
makeup
,
makeup tutorial
,
red
,
ReeRee Phillips
,
tutorial
,
vampires
,
warmth
,
winter