A Look Everyone's Goth To See – Makeup Tutorial
Alice Lockhart's videos were the very first makeup tutorials I ever saw a while back, and I've always appreciated how she presents not just the informative part in them, the technical aspects, but I also value the uniquely creative and artistic features of the styles she creates, and this Gothic makeup tutorial is no exception, so it solidifies in my mind the idea that she is the queen of makeup tutorials.
The Gothic style that she puts together on this one is all about balancing elements. The light and dark tones she combines manage to complement each other perfectly, and she explains every detail of how she puts together this look, right down to showing us the exact products she uses before she applies them, so we can get those same ones in our emulation of this dramatic style.
There's another element that I hold dear when it comes to this makeup tutorial, because her soft-spoken guidance, the light tapping we can sometimes hear when Alice Lockhart prepares her brushes and color palettes, and even the soft music in the background create an ASMR feeling that's very soothing, and as I watch her stylish look come together before my eyes, I notice how swiftly her tutorial flows, making it so I don't even feel time passing by while she composes this look, which definitely makes this tutorial earn a top spot on my list of favorite Gothic looks, and favorite makeup tutorials as well.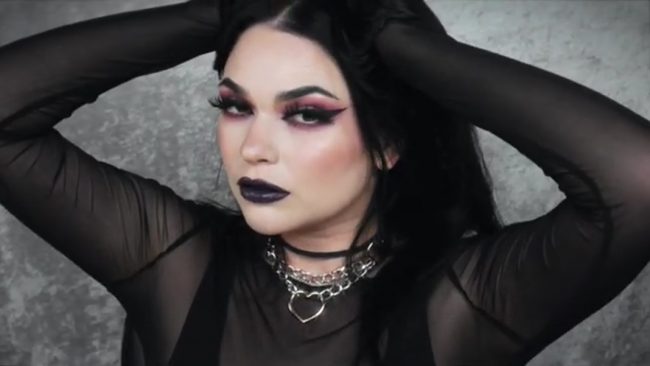 Today i'm playing with some new colourpop makeup to create this alt but festive purple glam!

♥CONNECT WITH ME
✖️INSTAGRAM: https://www.instagram.com/AlicexLockhart
✖️TWITTER: https://www.twitter.com/AlicexLockhart
✖️Tiktok: https://www.tiktok.com/@alicexlockhart
✖️Email: AlicexLockhart@gmail.com

☛ SHOP MY MERCH: www.kadabracult.com

••••••••• Featured Products In This Video •••••••••
Gloss Set: https://bit.ly/3ntRjOd
Colourpop "Menage a Muah" Eyeshadow Palette: https://bit.ly/3a2UgBk
White Eyeliner: https://bit.ly/3oPWkRa
Laura Mercier Cake Eyeliner https://bit.ly/2WeeiAO
Huda Beauty Legit Lashes Mascara https://bit.ly/2DU7Jh9
False Eyelashes https://amzn.to/3iXaFrW
Colourpop "secret crush" Blush: https://bit.ly/3qR9KOF
Colourpop "oh snap" lip liner https://bit.ly/3oNdKOh
Wet N Wild "mauve outta here" lipstick https://bit.ly/3lPcRTq
Ink Of Elation "cream soda" liquid lipstick https://bit.ly/3mgd4zt
Ofra "bordeaux" liquid lipstick https://bit.ly/3oSWXt9

(Used Off Camera)
Purlisse Green Tea Primer https://bit.ly/3kk7o6t (use code ALICE)
Yensa BC Foundation in Fair Cool https://bit.ly/3o7bqCw (Use Code ALICE)
Makeup Revolution Concealer https://bit.ly/2HG2dRf
Kiko Milano Contour Sticks https://bit.ly/35kZfdD
Laura Mercier Under eye Powder https://bit.ly/2UiqjUL
KVD "Graphite" brow pomade https://bit.ly/3dP4gND

❓𝐅 𝐀 𝐐 ❓
How old r u? – I am eternal
What hair dye do you use? https://amzn.to/2PfUBn1
Favorite bands? peep my spotify playlists: spoti.fi/alicexlockhart
Filming camera? https://amzn.to/2HacJv2
Lighting? https://amzn.to/2H95F20
Mic? https://amzn.to/2zV5dlV
Editing Program? https://go.magik.ly/ml/ltyt/
More faves in my Amazon Affiliate Shop: https://www.amazon.com/shop/alicexloc…
🎶 Music:
Frozen Star by Kevin Macleod
Dark Sugar Plum Mix by Kevin Macleod
filmmusic.io

🚨
I'll tell u if it's sponsored biiiish! Thanks for watching & supporting! I appreciate you!!
♥♥♥
Related Posts:
Posted by
Ingram Draco
on Tuesday, November 9th, 2021. Filed under
Headline
,
Lifestyle
. You can follow any responses to this entry through the
RSS 2.0
. You can skip to the end and leave a response. Pinging is currently not allowed.
Tags:
Alice Lockhart
,
asmr
,
goth
,
gothic
,
makeup
,
makeup tutorial
,
soothing
,
tutorial