Pieces Of Hidden Horror – Halloween Makeup Tutorial
Come in, take a seat and relax, because you are in for a great surprise while you witness an impressive style being put together right before your eyes by the incredibly talented Bee Luxury, who today is showing you how to recreate a Puzzle Skull look for Halloween.
Bee Luxury does a fantastic job creating the jigsaw concept, and she shows you how to make it happen by starting with a grid all across your face, and to add the small details later to make it look better, and more importantly, looking just the way you want it.
From here, she starts adding some three-dimensional details that truly make the style shine, because while most of the face looks like a puzzle, there are some areas that have missing pieces that help showcase the depth of each of those missing fragments, thanks to the masterfully achieved shadow effect, and they also let you see that there's a skull underneath waiting to be revealed once all the pieces fall apart.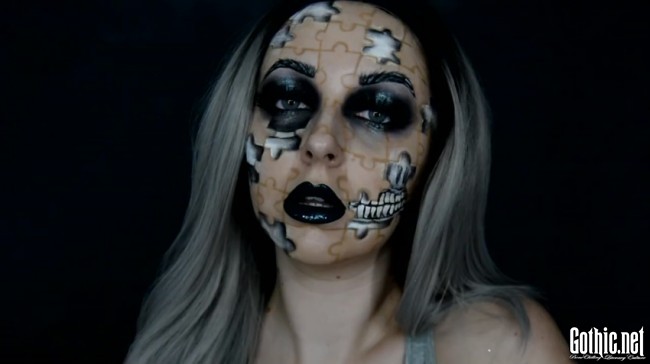 🔥 Instagram: @brooke.ellis_
https://www.instagram.com/brooke.ellis_/

🔥 Instagram: @brookeelliswears
https://www.instagram.com/brookeellis…

⏰ TIKTOK: @brooke.ellis_

💌 Twitter: @bee_Luxury
http://bit.ly/1TB239R

💎 Facebook: Bee Luxury
http://bit.ly/2F9t6WW
Related Posts:
Posted by
Ingram Draco
on Wednesday, October 13th, 2021. Filed under
Lifestyle
. You can follow any responses to this entry through the
RSS 2.0
. You can skip to the end and leave a response. Pinging is currently not allowed.
Tags:
Bee Luxury
,
halloween
,
hidden
,
horror
,
jigsaw
,
makeup
,
makeup tutorial
,
piece
,
pieces
,
puzzle
,
skull
,
tutorial