American Horror Story Season 1 Blu-Ray
Are you ready to revisit the Harmons? That's right, on September 25, 2012, 20th Century Fox Home Entertainment will be releasing American Horror Story: Season 1 on Blu-Ray. In case you're not familiar with the award winning television horror-drama, let me catch you up. The Harmons moved from Boston to Los Angeles in an attempt to save their struggling marriage. Now enter the house. The beautiful, haunting and Gothic inspired home has a sordid history and is filled with many of its no longer living former inhabitants, who are not always so nice. Add in the eccentric and slightly evil neighbor played brilliantly by Golden Globe winner Jessica Lange, and you have the mixture for a hit show. Season 1 garnered 17 Emmy nominations and various other nominations such as the Saturn and Screen Actors Guild Awards.
There are many bonus features in the Season 1 set, including audio commentary by Ryan Murphy, a making of featurette, and a tour of the house to name a few.
This is another great show to add to your collection, and with Season 2 set to premiere in October, you can get your American Horror Story fix just in time to watch the new season.
American Horror Story: Season 1(20th Century Fox Home Entertainment)Release: 09/25/2012
Brace yourself for an addictive thrill ride! American Horror Story is TV's most original new drama, a deeply stylish psychosexual haunt devised to keep you on the edge of your seat. The Harmon's (Dylan McDermott, Connie Britton) fresh start in a new home deviously twists to reveal discoveries of love, sex and murderous revenge. Featuring a Golden Globe® -winning performance by Jessica Lange, Season One scares up a host of engrossing extras.

Bonus Features:

**Audio Commentary on Pilot Episode by Ryan Murphy
**Behind the Fright: The Making of American Horror Story
**The Murder House presented by Eternal Darkness Tours of Hollywood
**On the Set of American Horror Story Season One
**Overture to Horror: Creating the Title Sequence
**Out of the Shadows: Meet the House Ghosts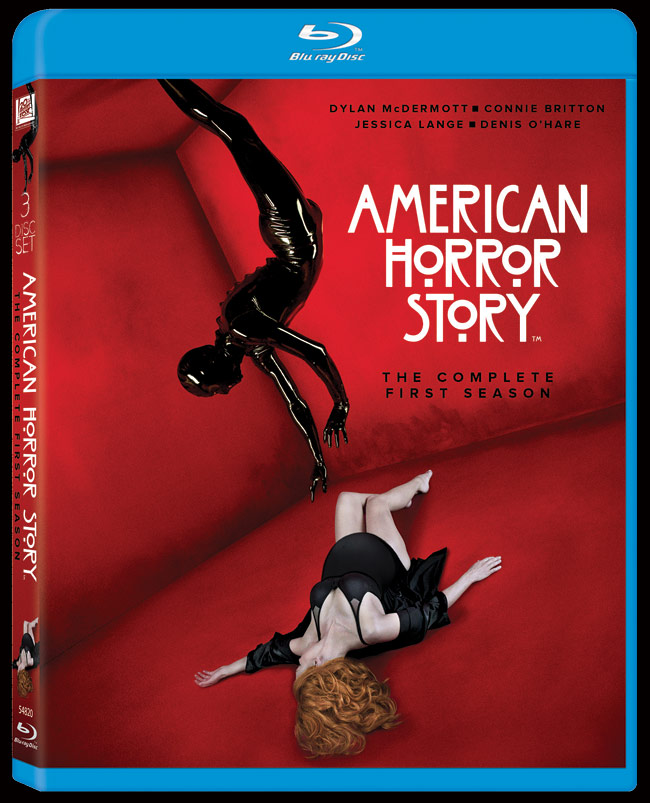 Related Posts:
Posted by
Amber Keller
on Wednesday, August 8th, 2012. Filed under
Dark TV
,
Headline
,
Images
. You can follow any responses to this entry through the
RSS 2.0
. You can skip to the end and leave a response. Pinging is currently not allowed.
Tags:
american horror story
,
horror